Details of accidents emerge at challenging new style of playground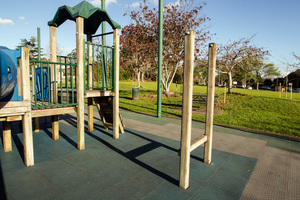 Parents are being warned to stick closely to their children at a new style of playground that is designed to be more challenging than normal, after revelations that ambulances have been called at least twice to the Auckland prototype.
Auckland Council is adjusting one slide at Tui Glen Reserve in Henderson after confirming two children suffered minor injuries.
But since last week's Herald on Sunday story about the new playgrounds, which have been built at seven locations nationally and have steep slides and towering climbing frames, two serious accidents at Tui Glen have come to light.
Anna Harrison, mother of Esme, 7, and Starr, 3, witnessed one of them, after seeing a woman bending over a little girl lying in bark under a wooden tower.
The mother screamed "Help. Somebody help me." Then she started doing mouth to mouth.
Harrison ran over. The girl, 2, had turned blue and was convulsing after falling and hit her head on the ground.
Harrison started chest compressions but two doctors who were in the park arrived and took over.
Her colour returned, she stopped shaking and was taken away by ambulance.
Another time she saw a young teen, who had fallen from a climbing rope frame, strapped to a stretcher and taken away by ambulance.
Harrison said she wouldn't return to Tui Glen until her children were older, and she'd make sure there was one adult to each child. The ambulance service said it could not say how many times it had been called to the park.
The injuries come as ACC figures show most playground accidents happen on climbing frames, monkey bars and jungle gyms.
From 2008 to 2012, ACC paid about $14.9 million on playground-related claims, with the annual amount hovering around $3m. After climbing frames, flying foxes, seesaws and merry-go-rounds were the most dangerous.
In every category, children aged 5 to 9 had the most accidents.
Safekids New Zealand director Ann Weaver said parents should not be scared, but they had to be vigilant.
"Playgrounds are adventurous and we want children to be adventurous and take risks. However, when they are taking risks you have to be observant and be actively watching children."