Tomorrow, Len Brown will be nominated for a second term as mayor of New Zealand's biggest and newest metropolis, the Supercity of Auckland. He has been portrayed as a grey-suited lawyer with a dicky ticker - but in the first in our series on mayoral candidates, we discover that away from the office, Len's got heart.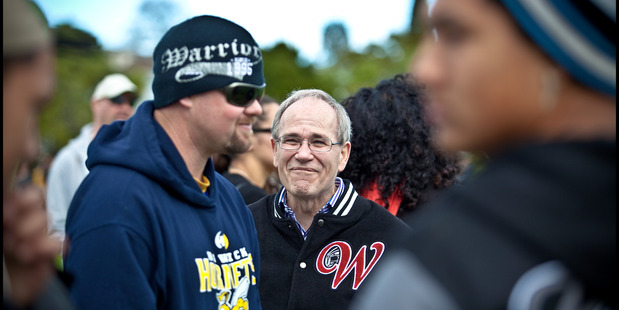 The smell of liniment mixed with mud and sweat fills the nostrils. It's Saturday, halftime in a showdown between Mangere East Hawks and the Howick Hornets.
This is grassroots rugby league. A world of wraparound sunnies, gumboots, whole families kitted out head to toe in their team's colours. Among the crowd, "wassup-ing" old friends and greeting strangers with knowledgeable banter about the season thus far, is Auckland Mayor Len Brown.
He receives 40 to 80 invitations a week. Usually the mayoral diary is a careful balance of outings to locations throughout the city, multicultural activities and sporting and awards nights. But Brown, dressed in tidy black jeans and a Warriors jacket, didn't take much convincing to come along today.
"Hey Len," a young guy asks, "which team do you support?"
"I'm the mayor for all of Auckland." He laughs, because there's no hiding he's a Hawks man.
Brown, who's aiming for another term as mayor of New Zealand's biggest city, is more than at ease among the many South Auckland faces lining the sideline today. He's one of them. "I'm a Southside boy," he boasts.
When you first meet him, as most Aucklanders did three years ago after electing him on the strength of his popularity as mayor of Manukau City, this kind of language seems odd. Here is a 56-year-old, well-off white lawyer who seems to be trying to talk like a Chicago rapper.
But the more you see of Len the more you realise he isn't trying and this isn't an act: It's simply how he talks.
After the horn sounds to resume play, Brown excuses himself from near the halfway line, saying: "I'm going back to my homies."
Yep. Homies. He "bro-shakes" a fellow Hawks supporter, starting with a handshake and going in for a half-embrace at the shoulder. He jokes with a Hornets fan.
He's in his element. These are his people.
Brown's Southside roots might make him popular with that community, but what of the rest of Auckland? Well, he reckons he has damn near perfect credentials (he's not one for false modesty) to steer this ship for another three years.
Brown was born in Taumarunui Hospital on October 1, 1956 to Tom, a primary school teacher, and Ngaire. He was the third child of six.
At a very young age they moved to Glen Murray in Waikato when Tom was given his first principal posting at a tiny school with a roll of about 30.
"It was great, my first seven years were in the country," says Brown.
"I have clear, lucid memories of being in rural communities that cared for their neighbours."
When Len was 4 they shifted to Normanby, 5km north of Hawera, Taranaki, for Tom's next school. "I came out of there knowing a lot of waiata, all the poi dances, and having been instructed on issues of marae protocol. I understood probably more than most about the grievances around the Treaty already at that young age, with a sense of multiculturalism already well beyond most."
Phew Len, that's a heavy mantle for a 7-year-old.
Next stop, in 1963, was Otara, where Tom was put in charge of a newly built school, Mayfield Primary. Len was a founding student in the small south Auckland suburb sprouting from Maori urban drift. They had a two-storey home on Wymondley Rd in Otara, with much of the section taken up by potatoes. "Dad was a great gardener, a bit like me, and we fed the whole neighbourhood."
Brown then went to Papatoetoe Intermediate, in the same year as David Shearer and John Boscawen.
By Brown's own admission he was not a strong performing student, yet he loved high school at the Catholic De La Salle College.
Brown credits DLS teacher Wayne Reeves with opening his eyes to political engagement. They studied political movements of the time: Martin Luther King, JFK, Bobby Kennedy, even rogue radio station Radio Hauraki.
Brown played halfback in the 1st XV and says that 72kg was his top playing weight. "In the De La Salle First XV now I'd be lucky to make water boy." His parents were loved by the Otara community, he says. "Dad, he's left very big shoes for me to fill. He had an amazing life." Ngaire died at 47 when Brown was 19 and his youngest sibling, Greg, was 6. She'd been the heart of the family and she was gone, taken by a heart attack. In 2008, Brown nearly suffered the same fate, aged 51, when he collapsed on stage at the Pacific Music Awards. Bypass surgery saved him and doctors advised him to get a low-stress job. Incredibly, he claims that's exactly what he did. He loves the job of mayor and was overwhelmed by the community support.
His wife Shirley-Anne "Shan" Inglis backs him up. "Len has always managed stress well and has a very even temperament, always manages to find the positive."
After leaving school Brown spent a year in Holland on the International Christian Youth Exchange.
"I really didn't know what the hell I wanted to do," he says. But he knew he wanted to be a political or community leader and reckoned a law career would give him the tools he needed. He paid his way through university painting houses, a job he enjoyed. "I loved it. I loved to cut a straight line." Spoken like a meticulous perfectionist.
He met Inglis on his first job in a Panmure law firm. He says he was a bit of a hippie and his funny dress sense put her off at first.
Inglis insists she found him "charming and absolutely passionate about life" - but Brown isn't so sure.
"She didn't have a lot of time for me," he says. "I thought she was quite cute."
His campaign minders, sitting in on the Herald on Sunday interview, roll their eyes to the ceiling. He must be impossible to rein in when he gets on a roll. "What's wrong?" he teases, "She was bloody cute."
They married a couple of years later. He and Shan have chalk-and-cheese personalities, he says, but it works. "I'm sort of a little out there, she's a very shy type. She's got a real streak of steel through her as she'd need to have dealing with someone like me."
They raised three girls together - Samantha, now 25, Olivia, 16, and Victoria, 14. The younger two still live at home. He's pleased the media has steered clear of his family, apart from a certain Herald on Sunday story about Samantha's wedding in March at the Stamford Plaza, that he says was a "bit gratuitous". The story revealed Brown's office had played a part in renewing the hotel's lapsed liquor licence in time for the wedding. He said he'd had nothing to do with it, personally.
Brown says Shan is sensitive about the family being in the spotlight.
Inglis says she understands that the public attention is a key ingredient of Brown's job. Her own battle with thyroid cancer in 2010 was splashed in the media, although Brown says it was handled sensitively.
By 2007, when he became the mayor of Manukau, Brown had been working as in-house counsel for large clients who wanted his advice not just on legal matters but on commercial, risk and investment.
Many people don't realise he has that commercial background. "They can't see how I could manage an organisation with a $3.5 billion budget (such as Auckland City). Well, I was working at a commercial level with companies operating off $200 to $300 million annual budgets."
Asked what his greatest triumph has been as Auckland Mayor, Brown doesn't hesitate: the Central Rail Loop. A $2.86 billion rail tunnel to burrow under Auckland's CBD. It's something he's championed and spoken of a lot already. So what's his second biggest victory?
That's easy too: under-16s in pools. When he first came in talking about letting kids swim in local pools free, nobody thought he'd be able to do it, but from April this year, all those under 16 got free entry to council-owned pools.
"That was a special victory and a really good sign that Auckland was genuinely uniting," he says. His next goal is free pools for all ages.
His biggest headache? That's a harder question and the answer takes time. Then he has it: "Lamingtons."
In March last year a student protester smeared him with a pink lamington during a visit to Auckland University. The student was part of a group angry at Brown's hands-off stance in the bitter Ports of Auckland dispute; 300 striking union workers had just been fired.
A lot of people thought the lamington incident was funny, but Brown was shocked. "I'd been used to operating in a community environment where you had your disagreements but by and large you respected each other. That was my experience on the Southside. It wasn't just a lamington."
The Ports saga is still not fully resolved and Brown says that in hindsight he could have handled it better by jumping in earlier. But he wasn't aware of how bad things had got. "I probably would have been more proactive if I'd fully understood that the parties were not as close as they told me they were."
The SkyCity Convention Centre is another issue over which Brown has copped flak. Having led the "sinking lid policy" to cut pokie machine numbers in Manukau, and announced he is campaigning for further corner pokie parlour cuts this election, people expect him to oppose a deal that would increase the number of machines at SkyCity.
He's pleased SkyCity has agreed to introduce facial recognition technology and says if it works there he'd like to see it used in other pokie outlets such as those pubs. "If we can stop people going in there and frittering away the family money, that's as good a quid pro quo as you can get."
Brown is glad the Government did the seats-for-pokies deal with the casino operator. He says he wants young Aucklanders to have a reason to stay in the city; the deal will provide jobs and a stronger economy.
He agrees with reports that insist Auckland needs a convention centre and he says if the Government didn't build one the council probably would have.
"I really want this convention centre. It's going to employ a lot of people, particularly out of Southside and Westside.
"It's a key part to how we go forward - and it's not just us, it's the rest of the country."
But he has also told the Herald on Sunday that he would never have signed it off himself, as mayor. In other words, like the halfback he once was, he kicks for touch.
Back at Birkenhead War Memorial Park for the final whistle in the league, and it's a Hawks win by 28-20.
When the final whistle blows on election day, October 12, Brown will be hoping his victory is as resounding.