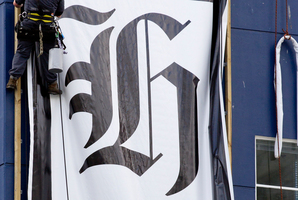 The Herald is reaching 1.3 million people in print and digitally across the week, latest figures released by Nielsen show today.
The daily Herald reaches 944,000 readers across a week, with the best-read newspaper in the country, The Weekend Herald, reaching 563,000 people.
More and more readers are reading the Herald digitally with visits to the mobile site m.nzherald.co.nz up 75 per cent from a year ago. Ipad visitors are also up 50 per cent.
However, at the same time Herald newspaper readership has dipped six per cent to 505,000 daily readers in the Nielsen Consumer and Media Insights of year-on-year trends for 2012-13.
About half of that drop is due to the withdrawal of a programme to provide newspapers for families with students at low decile schools in West and South Auckland which was uneconomic.
APN New Zealand could not sustain the cost, said CEO Martin Simons.
Mr Simons said the company's focus on improving circulation quality had also resulted in the elimination of NIE and education copies, reducing the Herald's sponsored programmes to less than 2 per cent of total sales.
However, the move to a compact Herald format and strong readership of inserted magazines, like Viva which was relaunched this month, had helped sustain Herald readership.
Customers spend almost half an hour reading the Herald on a typical week day, and 51 minutes reading the Weekend Herald.