Government offer to smelter owners a 'sweetener' for Meridian sale, says Labour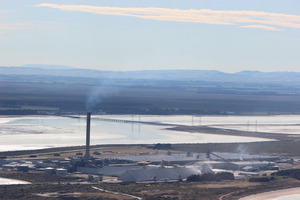 Opposition parties are condemning a $30 million payment from taxpayers to the owners of the Tiwai Point aluminium smelter as buying the Government nothing more than a clear run for the partial sale of Meridian Energy.
Three weeks ago, after a year's tough negotiating in which the State-owned electricity company accepted a lower power price and the potential for an earlier closure of the smelter, the talks had stalled.
"We went as far as we could go and then they [New Zealand Aluminium Smelters] made it clear to us they would be going to the Government," Meridian chief executive Mark Binns said yesterday.
The Government has agreed to a one-off payment of $30 million to NZAS "to help secure agreement of the revised contract because of the importance of the smelter to the stability of the New Zealand electricity market" and "because it offers investors more certainty".
Finance Minister Bill English said NZAS, which is owned by Rio Tinto and Sumitomo Chemical, had brought some negotiating pressure to bear.
The smelter is caught between weak aluminium prices and a rising power bill. "I think they had in the back of their mind that when they had got what they could from Meridian they would probably come to the Government," he said.
"They asked for hundreds of millions of dollars over the life of the contract. We said no to that."
Labour's SOE spokesman Clayton Cosgrove said, "National is so desperate to get Meridian sold off that it has given Rio Tinto a $30 million bonus to sweeten the deal, and all the company has to do is keep the smelter open for 3 years."
By January 2017, which is the soonest NZAS can now close the plant, it would be in a position to hold the Government, taxpayers and the people of Southland to ransom once again, he said.
Mr English said, "They certainly won't be getting a second bite of the cherry from this government."
Greens co-leader Russel Norman said Prime Minster John Key had locked himself into selling assets no matter what. "While there may have been a case for Government involvement in negotiating the future of Tiwai Point, Mr Key put himself in such a weak position that it was inevitable the taxpayer would end up footing an unjustifiably large bill."