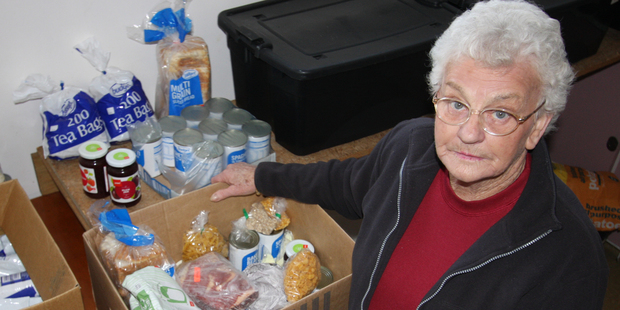 Stories making headlines around the regions include a woman who refuses to give food parcels to people she thinks are on drugs, and there was no hiding for two burglars thanks to Facebook.
Northland food bank manager Rose Walker makes no apologies for denying food parcels to people she thinks are on drugs.
Thanks to Facebook, two burglary suspects were located within four hours in Rotorua.
A Far North woman is outraged that her 13-year-old daughter received a contraceptive implant without her knowledge.
Former Prime Minister Helen Clark has spoken at a sold out event in the Bay of Plenty.
When farmer Bill Paikea lay on the floor of a hayshed with a broken back for two hours, his faithful farm dog Tip stayed by his side.
A cheeky new campaign sees two local radio personalities revealing (almost) all for a good cause.
A Masterton shopper who discovered private wedding photos on a "blank" DVD has been contacted by the groom.
A drunken man who seriously injured his 6-year-old daughter when he crashed his overloaded quad bike has avoided prison.
Internet troll Tristan Barker has admitted assaulting a journalist who came to interview him about his online activities.
Four alleged boy racers who caused a fatal accident have lost name suppression in court.
Tauranga's recreational fishers are willing to go the extra mile to preserve snapper.
Two stationary yellow-eyed penguins standing guard over Sandfly Bay on Otago Peninsula have been confusing penguins.
And 30 Rathkeale students have just had a intrepid adventure through South Africa.
Other stories making headlines around the regions include:
Oops, candidate starts his campaign too early
North's into sport for the fun of it
Safety concerns as skate park built.
Truck crash halts traffic to Tauranga for an hour.
Kidnap, assault accused denied bail.
A man admits to raping stepdaughter
Delta gives $5000 for SPCA's new aviary