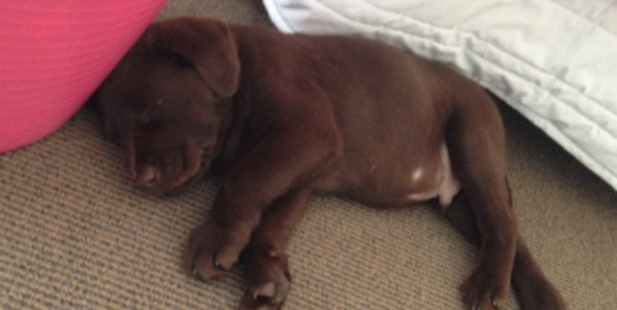 A family heard their 12-week-old puppy whimpering before it was killed by intruders who rampaged through their Auckland home. The Glen Innes couple and their three children, aged 9, 8 and 4, barricaded themselves in a part of their Torrington Cres house while three young people smashed their way inside about 9.25pm on Monday.
But they could hear the haunting sound of their purebred labrador Milo - whom they'd had for only three weeks - from behind doors.
"It's been terrible for the kids. No one witnessed the puppy being killed. But the kids heard what was going on. It was pretty obvious by the noise that something had happened to the puppy," their father, who asked not to be named, told the Herald.
It was clear what had happened, he said, because Milo did not make a noise after "a yelping-type scream".
They were struggling with why it happened - the intruders didn't take anything and targeted the home when they knew people were inside.
"We'll never really understand why. It's mind-boggling."
He suspected the attackers could be on drugs. "People don't do that. The violence that took place ... If I was an age that we suspect they were, I don't think I would be capable of that."
It started with a noise at the door. "I saw them and asked what they were doing. They wanted to talk to me - I wouldn't - and then they have tried to force their way through the door."
A 16 year-old will appear in court today charged with two counts of unlawfully being on a property.