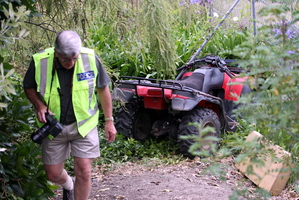 The driver of an overloaded quad bike who crashed in January, seriously injuring his 6-year-old daughter, has avoided a prison sentence to help prevent his daughter suffering any further trauma.
Daniel McGregor, 29, was sentenced to nine months' home detention and disqualified from driving for two years when he appeared in Hastings District Court today. He plead guilty in April to four charges of driving with excess blood alcohol causing injury and one charge of reckless driving.
McGregor was driving the overloaded quad bike down a steep hill from a Waimarama lookout about 11.20pm on January 2, when he crashed, injuring everybody on board. He and his daughter Ashlee Shorrock, now aged seven, were both airlifted to Hawke's Bay Hospital.
McGregor was drunk, the bike was in poor condition and was without brakes.
He broke his legs in the accident and appeared in court on crutches today where his lawyer Scott Jefferson said he was the only person on the vehicle to suffer permanent injury. He was likely to regain only 80 per cent use of his leg.
Mr Jefferson said the probation report illustrated McGregor's remorse and shame for his actions.
"He is the last person who would want to hurt his own daughter or his close friends, or his partner.''
Police had asked for a term of imprisonment.
However, in sentencing McGregor, Judge Jonathan Down noted "the potential for causing further trauma to your daughter, which I'm not prepared to do''.
McGregor and his daughter were flown to Hawke's Bay Hospital by the Lowe Corporation Rescue Helicopter after the accident. His daughter suffered fractures to her face and head, and his partner Stephanie Lucas suffered cuts and grazes as well as a fractured jaw and finger. The two other adults riding on the back of the quad bike also received fractures.
A blood sample taken in hospital showed a reading of 111 milligrams of alcohol per 100 millilitres of blood. The legal adult level is 80 milligrams.
McGregor's daughter had since made a full recovery.
For more articles from this region, go to Hawkes Bay Today