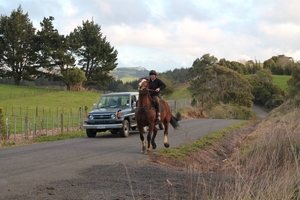 A nationwide petition is calling for horses to be allowed on walkways and cycle tracks.
Jan Mossman said she started the petition because horses and riders were being refused access to recreational trails and were not being included in plans for future trails.
"Bridleways work well in England and the US," Mossman said.
"There should be better access for carriage driven and ridden horses here."
She believed about two-thirds of New Zealand's cycle and walking trails could accommodate horses, but said only a few allowed them.
"Even the historic coach roads - built for the horse - have been taken over by walkers and cyclists," she said. "It has been stolen off us without us paying attention."
Mossman, a landscape designer from Drury, said her ancestors used to ride an old coach road through Motu, between Opotiki and Gisborne, and said it was hurtful that horses were now banned - as was also the case with the Ohakune Old Coach Rd.
"How dare they do that?"
Mossman said Totara Park, in the Auckland suburb of Manukau had shared walkways/bridle trails and was a prime example of how it could work.
She said some walk and cycle trails could also accommodate other users, including ridden and driven horses.
Mossman said horses needed only a 60cm space - the width of a sheep track.
Instead, riders and animals were forced on to busy roads, with the potential for more accidents.
"The roads are far too dangerous," she said.
The petition has gathered 10,000 signatures and aims for 52,000. It calls for horses to be recognised as an alternative mode of travel and for the Government to recognise the equestrian industry in planning recreational trails.
Mossman said New Zealand had only about 80,000 sport horse owners, so the petition needed support from the public.
"Horses will continue to be sidelined if we do not stand up for them," she said. "We spend a lot of money on horses, associated services, vehicles, rates and tax, and it's time we had a say." Amanda Snow