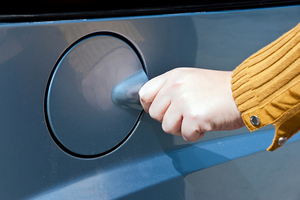 A Hastings man is praising a motorist who thwarted a getaway following a petrol raid on his Omahu Rd business.
The drama unfolded last Saturday about 10.30pm when motorist, in his early 20s, was driving along Omahu Rd.
He had caught a glimpse of movement in a fenced-off business yard and slowed to get a better look.
He had seen two people moving around suspiciously so had driven further along the road before turning his car lights off, then turned around to get closer for a better look. The two men and three others were helping themselves to petrol from vehicles in the yard.
The five had spotted him and with cans under their arms had jumped the fence and driven off.
The young man had called police and told them what he'd seen, but realising officers could take time to arrive decided to follow the getaway car from a distance.
At one stage the raiders had slowed and then stopped - so he, too, had pulled over.
One of the five scrambled out of the car and ran up to his window, angrily asking if he was following them, and why he had stopped.
The man replied he wasn't following them but had stopped because he was on the phone.
And that was the truth - he was talking to the police at the time. Within a few minutes four police cars descended on the scene and the car and its occupants were soon in police hands. The five were charged with burglary.
The business owner - who did not wish to be named - told Hawke's Bay Today yesterday he was not so worried about the stolen petrol. He was more worried the thieves may have got away and struck somewhere else. "There's been a few petrol thefts around the place recently."
But the most valuable thing was how a young man he did not know had stepped in to help.
"I had to find out who this young guy was and how I could get in touch with him to thank him."
With the help of police he did, and duly handed the young man petrol vouchers and a $100 hardware shopping voucher.
"He was very humble about it and told me he had to do something because he knew how he would have felt if someone stole something of his," the business owner said.
For more articles from this region, go to Hawkes Bay Today