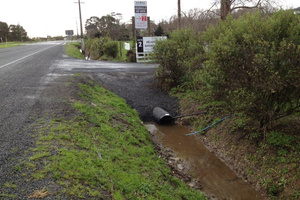 Reviewing a crash report on a Waikato woman killed when her car slammed into a drain culvert, Dennis Davis put his thinking cap on, inventing a new culvert end to help reduce fatal crashes.
The Carterton civil engineer spent four years designing the corrugated plastic culvert ends and $70,000 testing them, and the New Zealand Transport Agency (NZTA) is now installing the new culvert ends when they are upgrading roadsides or building new drains throughout the country.
Mr Davis believes that once installed throughout the country, his invention will result in six fewer people being killed on our roads annually - plus between 500 and 650 in the United States and between 50 and 60 in Canada.
"Typically, roadside ditches account for or feature in 35 per cent of all run-off-the-road crashes. It shouldn't be unexpected in New Zealand because we have a lot of them - most of our roads have ditches," he said.
Patents for the Kiwisafer culvert end are held in New Zealand, Australia and the United States, with a patent pending in Canada.
It is recognised as an award-winning product, with Mr Davis taking out the 2012 3M Traffic Safety Innovation Award which recognises significant advancement towards reducing road death and trauma.
The culvert end was his solution for the long-standing road safety problem caused by dangerous parallel culvert ends under mainly rural and semi-rural roads, Mr Davis said.
The crash he reviewed involving the Waikato woman was what got his invention cap excited.
"Rarely is a crash one single cause but had the culvert end been treated properly the woman probably would have survived," he said.
Hynds manufactures the culvert ends ,which reduce culvert crash impact severity. They are made in Auckland and have already been used in Auckland and Taranaki as well as in Christchurch.
Mr Davis said when a car crashed into a drain culvert - many of which are concrete designed , it "snagged" the car or front wheel and in most cases caused the vehicle to flip or roll. The Kiwisafer culvert end folds in on impact, forming a ramp for the vehicle to drive over, avoiding the vehicle rolling or flipping and causing severe damage or a fatality.
In the past, transport agencies had tried to improve the culverts to stop snagging by placing rails over them, Mr Davis said.
But these hadn't worked as they broke on impact or caused cars to perform in the same way as without the guard rails, he said.
"They are quite severe impacts ... it's a problem that has been recognised since the 1920s but there has never been a cost-effective solution to the problem.
"There was either a problem with the solutions technically or they were way too expensive."
Kiwisafer culvert ends were cost-effective, Mr Davis said, quoting one with a boss-pipe at $4500 or just a culvert end at $3500, compared to a concrete pipe at $5000 or a grated culvert and end at $13,000.
In the future, they will be eventually replacing the old culverts, he said.
"NZTA has been using them on their safety upgrade programme ... they are committed to this ... It's really great. It's fantastic. It will save lives."
For more articles from this region, go to Wairarapa Times-Age