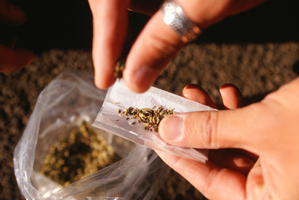 A man who gave drugs to Christchurch schoolgirls in exchange for sexual favours has pleaded guilty today.
Kevin Beria Greer, 45, parked his van outside Burnside High School and lured uniformed teenage girls inside where he offered them cannabis.
In return, he got the girls - aged 15 and 16 - to expose their breasts and bodies for him to photograph.
Police watched the girls enter the van, which had curtains guarding the illicit deals in the back, before they pounced on Greer.
They found two teenagers who admitted allowing the photographs to be taken in exchange for drugs.
Officers also found $14,000 in cash stashed inside Greer's van, as well as thousands of dollars worth of cannabis, morphine and Ritalin.
Greer, of Bryndwr in Christchurch, pleaded guilty to five charges at Christchurch District Court today.
Judge Christopher Somerville remanded him in custody for sentence on the "pretty serious charges''.
Police dropped six charges today in exchange for the guilty pleas, which included a new charge that between January 1 this year and May 24, Greer "did enter into a dealing'' with two girls under the age of 18 for the purpose of sexual exploitation.
He also admitted supplying cannabis, and three charges of possessing cannabis and the Class B controlled drugs morphine, and Ritalin.
Police prosecutor Sergeant Chris Scott said Greer's digital camera was found with 17 photographs of six different females in "various stages of undress exposing their genitals or breasts''.
Only two of the victims have been identified, with the ages of the others unknown, Mr Scott said.
Text data recovered form Greer's cellphone established he had sold cannabis to 20 "school-age students''.
He will be sentenced on October 23.
- APNZ