Family furious that elderly head-injury patient was woken and told to leave in the early hours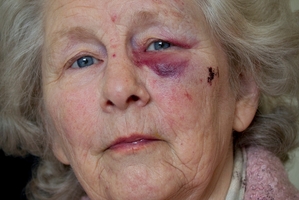 The family of an elderly South Auckland woman are "furious" that she was sent home from hospital by taxi in the early hours of the morning.
They say Middlemore Hospital put her at risk of further injury.
Middlemore admits the incident should never have happened and has apologised.
Muriel Murdoch, 79, was treated in the emergency department (ED) after she fell outside her home in Manurewa on Tuesday afternoon.
"I had been out to get the letters, walking along on the concrete," the grandmother of six said. "There is a slight rise. The dog next door started barking like crazy. I turned my head to look at what he was barking about. Two seconds later, I tripped."
Mrs Murdoch hit her left cheek and forehead on the concrete. The cheekbone was later found to have a small fracture. Neighbours came to her aid and called an ambulance.
Her son Paul Garnham, of Mangere Bridge, who had joined his mother at the hospital, said that at 11pm staff told him she could go home. She went to the toilet and there was bleeding from the bowel, about which she was advised to consult her GP.
"They said she better stay the night (in the short-stay ward). I said I'll go home and come back in the morning."
His sister, who lives in Orewa, had also come to the hospital and she, too, went home for the night.
"At ten past one, they woke Mum up and said, 'You've got to go, you can go home now'," Mr Garnham said.
Mrs Murdoch didn't want to trouble her children to return and take her home during the night: her daughter lived too far away to call back and her son had to go to work later in the morning.
The hospital paid for a taxi to take her home. She travelled with another departing patient, who was first dropped home in Otahuhu.
The driver waited for Mrs Murdoch to be safely inside her home - at around 2am - before leaving.
Mr Garnham said his mother was put at risk of another fall because of the unfamiliar situation of having to enter her home - which has four steps and where she lives alone - in the middle of the night.
Mrs Murdoch said there was another problem too: "There's a lunatic who knocks on the house at night."
She said she was reasonably fit, "but I'm thinking - somebody really frail, would they send them home too? They shouldn't be putting people out who have had an accident to their head. All my kids are furious".
Middlemore spokeswoman Lauren Young said: "The correct procedure would have been for Mrs Murdoch to be kept in ED until morning. This is especially true for the elderly. It appears that on this occasion an error was made, which we sincerely regret. We apologise sincerely to Mrs Murdoch and her family."
Once the care of ED patients was completed, they were offered a taxi home if they did not have a ride.