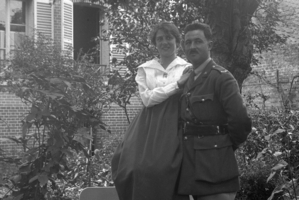 The mystery of a Kiwi officer photographed with a woman in the Somme region during World War I may have been solved, with a military historian identifying the man as Captain Albert Arthur Chapman.
Chapman was born in Tasmania but moved to New Zealand and volunteered as a private, probably served at Gallipoli, and later fought in the Battle of the Somme, one of the bloodiest campaigns of the 1914-1918 war.
London-based New Zealand military historian Andrew Macdonald identified Captain Chapman by cross-referencing the insignia on his uniform with military records.
In one of the photos Chapman's collar and cap badges identify him as a lieutenant in the 7th Southland Mounted Rifles. In another photo with the woman, believed to have been taken in the garden of a villa near Abbeville, the officer has been promoted to captain and transferred to the New Zealand Pioneer (Maori) Battalion, and has been awarded the Military Cross.
"There are only two officers who meet these criteria," Mr Macdonald told the Independent newspaper. "One of these did not reach the rank of captain, leaving Albert Arthur Chapman as the prime candidate.
"His service record fits the man in these images like a glove. He was transferred from the Pioneer Battalion to serve with the New Zealand Division headquarter staff behind the lines of the Somme in April, May and June 1916.
"He was transferred back to the same Pioneer battalion when the New Zealand Division entered the battle [from 15 September]."
The woman in the photos, who is shown wearing the officer's uniform and also sitting playfully on his knee, has not been identified. She wears a wedding ring.
Records show Captain Chapman, who emigrated to the United States via Canada in 1924, was not married, leading to speculation about the nature of his relationship with her.
Officer in mysterious photo identified
Mystery man?
Captain Albert Arthur Chapman:
* Born in Tasmania in March 1880.
* Lived in Dunedin, where he worked as a shipping clerk.
* Probably served at Gallipoli.
One of 15,000 Kiwis to fight in the Battle of the Somme.