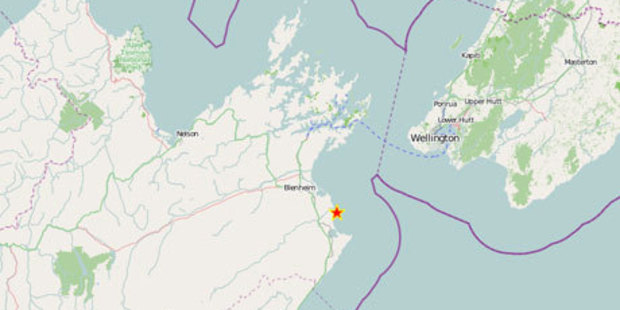 Wellington has been shaken by another "severe'' earthquake overnight followed by a flurry of smaller aftershocks.
GeoNet said the magnitude 5.4 tremor struck 20km east of Seddon at 1.07am.
The "severe'' quake was at a depth of 12km.
More than 1500 people have reported feeling the quake, from the upper South Island to the central North Island, on the GeoNet website. It was followed by a number of smaller tremors up to 3.5 in magnitude.
Wellington City Council spokesman Richard MacLean said no damage was reported from this morning's quake.
He said Luke's Lane in central Wellington, which was closed after a 10-storey lift shaft was damaged in last Sunday's quake, would not be given the all-clear until some time tomorrow.
Mr MacLean said epoxy had been used to strengthen some of the bolted fastenings which were holding the lift shaft to the adjacent James Smith parking building.
However, the epoxy needed to cure for about 24 hours before the all-clear could be given.
The quake comes just over a week since a magnitude 6.5 quake struck in the same area of the Cook Strait, causing damage to some buildings in Wellington.
This morning's quake was the biggest since the magnitude 6.5 tremor struck on Sunday, July 21.
GNS duty seismologist Dr John Ristau said this morning's quake was felt quite strongly.
"It's all part of the same Cook Strait sequence - it's related to all the earthquakes going back to Friday, July 19.''
Dr Ristau said there were two known faults that were possible candidates for the activity in the Cook Strait.
"And of course the other possibility ... is that it could be neither of those two - it could be a different fault that we don't know about. We're still not quite certain yet.''
Dr Ristau said the probability of another quake between magnitude 5.0 to 5.9 over the next week had been calculated yesterday at 43 per cent.
He said that probability was likely to go up slightly, but he would not know for certain until the calculations were done again.
The quake was followed by a flurry of messages on Twitter early this morning.
Kim Savage tweeted: "Felt like an enormous truck hitting the building. Half way out of bed with phone in hand before it was over.''
Gerald Lee tweeted: "Was ready to leap under the doorframe for that one.''
Meanwhile safety concerns have led to the closure of St Mary of the Angels Church in Wellington for 18 months.
Strengthening work was already planned, but following last Sunday's 6.5 quake, the decision has been made to fast track that work.
Parish Priest Father Barry Scannell says while the historic building didn't suffer damage during the shake, urgency with which strengthening needs to be done was highlighted.
He says it's a very challenging project as it's important not to ruin the integrity of the church, being a neo-gothic concrete reinforced church.
Father Barry Scannell says the Catholic church was built between 1919 and 1922, and holds cultural significance as well as being the home for the Wellington Central parish.
- APNZ