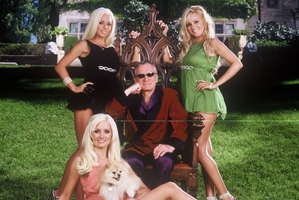 Insurance salesmen are being rewarded with all-expenses-paid trips to exotic locations around the globe for encouraging customers to buy new plans.
A brochure for the Partners Life 2014 advisers conference shows salesmen being treated to a dinner party "like no other" at the Playboy Mansion, admission to a corporate box at a Major League baseball game, and "wining and dining like a celebrity" in a luxury trip to Los Angeles.
The salesmen must sell $80,000 worth of premiums to qualify.
Marketing material states: "From the private zoo to the hidden grotto, you will be able to enjoy this and much more when you visit."
It continues: "Don't worry about getting caught up in the crowd, you will be enjoying the game in a corporate box fully equipped with beer and hot dogs."
It comes at a time when consumers are facing skyrocketing premiums, particularly property policy hikes which have risen markedly since the Christchurch earthquakes.
While not new, the trips are a closely guarded secret and some companies are unwilling to discuss them.
The beneficiaries are independent advisers, not employees of the insurance company, those encouraged to sell a particular company's policy.
However, critics say the schemes encourage advisers to change insurance providers even when there may be no need.
The Playboy Mansion trip was removed from the Partners Life itinerary after Herald on Sunday inquiries.
Partners Life chief executive Naomi Ballantyne said: "It's a lonely job and your incomes fluctuate. There's no certainty around it. Sometimes a bit of fun is an added advantage."
Fidelity Life Assurance Company is sending its salesmen to Venice, Italy, this year. Chief executive Milton Jennings said there was competition to make the trips attractive to advisers.
"It's a hard industry to be in. These guys need a bit of a break. They face a lot of rejection in the business. People don't queue up to buy insurance, you've got to sell it to them. It's not easy to get people to sell insurance."
The trip's budget represented about 5 per cent of the marketing budget. "They're certainly nice trips but they're only away for five or six days."
Jennings said the conferences had been scaled back on past years "where the costs had got completely out of control".
On one trip, advisers were taken to Hawaii and New York, before flying on to Russia for a seven-day cruise.
Sovereign Insurance offers short-term rewards such as iPads as well as overseas travel to Dream World (Australia), Fiji and Europe through a programme called Rockit Rewards.
In a statement, Sovereign's chief distribution officer, David Haak, said its incentive programmes were "educational and motivational".
"Examples include Women in Business, Million Dollar Round Table (The Premier Association of Financial Professionals) and our own adviser conference."
An industry source said: "I wonder if consumers know they are earning advisers plenty of freebies from iPads to etcetera."
Another company, Asteron Life, will have next year's conference at the Haas Business School at Berkeley University.
Spokeswoman Angela Tiy said the purpose was to provide incentive and recognition to key distributors and "professional development and education".
Andrew Park, a spokesman from OnePath Life, a part of the ANZ Wealth business, refused to give any details of their adviser conferences.