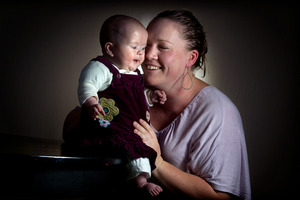 The family of Rotorua infant Skyla Waters have endured an "extremely rough" 36 hours after the 6-month-old required a second open heart surgery.
Skyla featured in the Rotorua Daily Post earlier this month with her mum, Sarah Craig, ahead of open heart surgery where doctors were expected to repair Skyla's heart.
However, things haven't gone to plan with Skyla requiring a second open heart surgery.
Miss Craig said her daughter had "really struggled" the second surgery.
Miss Craig said while they had expected to stay at Auckland's Starship Children's Hospital about three weeks after the open heart surgery, the complications and second surgery meant their stay had gotten much longer.
She said medical staff couldn't give them an idea of how long she'd have to remain in Starship.
"We are by no means out of the woods and have an extremely long and rough road ahead."
She said Skyla had been keeping the paediatric intensive care unit and cardiac team on their toes.
Skyla was born with two major heart defects.
The defects weren't picked up during antenatal screening and were only discovered a few days after her birth.
Since she was born Skyla has spent more time in hospital than at home, and the family have set up a Facebook page, Support for Skyla, to help raise funds for all the extra expenses they're facing because of the long hospital stays.
Miss Craig has had to spend extended periods away from her partner, Shane Waters, and their three boys, Shalin, 9, Sam, 7, and Reyne, 5.
* People can make a donation into Westpac bank account 03 0415 0452850 026. The name of the account is S E Craig.
For more articles from this region, go to Rotorua Daily Post