Kiwi old soldiers make an emotional return to zone that divides South and North Korea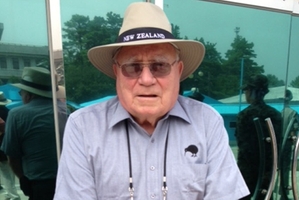 The Korean War and the mates lost to it remain painful memories for many of the New Zealand veterans who yesterday visited the demilitarised zone which still separates North and South Korea 60 years later.
The group of just over 30 New Zealand veterans travelled an hour up the razor-wire-lined motorway from South Korean capital Seoul to the edge of the 4km-wide DMZ.
After a briefing from one of the almost 30,000 US troops who remain as a deterrent to North Korean aggression, they travelled deeper into the zone via a road which cuts through electrified razor wire, anti-tank defences and a 240km-long minefield, to the Joint Security Area (JSA). The JSA, in the middle of the zone, is the main point of contact between the two nations.
The JSA is a bizarre mix of memorials and military installations where deadly skirmishes can, and have, broken out since the armistice. It contains "conference row" - the buildings where the July 27, 1953 armistice was signed.
Those buildings including T2, where the agreement was inked, straddle the border and visitors like these veterans can walk from one end of a room to the other and cross briefly into communist North Korea.
While they do, they are being watched and photographed constantly by North Korean soldiers.
For former "K-Force" driver Tim Flintoff, 81, of Nelson who transported supplies and troops to the frontline long ago, it is an unpleasant sensation.
"Personally I don't think they're worth worrying about. I've got no time for the North Koreans, they're vicious people." His bitterness comes from the memory of the friends he lost during the war whose graves he will visit later this week.
"It gives me a chance to pay my respects," he says, fighting back tears.
The loss of his mates, the smell of the battlefield, the war damage and the poverty of the refugees he saw still affects him, but "I'd do it all over again if I had to", he said.
"It was important. What gets me is everybody back home, they think I'm important," he says before shrugging that off. "I just did what had to be done."