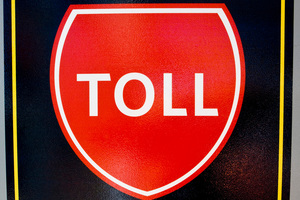 Choosing road tolls over rates and fuel-tax rises to plug a $12 billion-plus transport funding gap risks creating a two-class roading system for Aucklanders, councillors have been warned.
"We are going to be building inadvertently a first and second-class road system for Aucklanders - is that the Kiwi way?" council transport chairman Mike Lee asked his colleagues at the end of a 90-minute debate by the Super City's governing body yesterday on a mayoral advisory group's recommendation of two options for raising at least $400 million more a year.
Others such as Sir John Walker had indicated support for "user-pays" road charges to ease the rates burden on revalued properties.
"Even in the richer areas like Howick and Pakuranga, people are struggling to pay their rates," Sir John said. "I am all for congestion charging, user pays."
The 17-member mayoral "consensus building group" recommends Auckland Council decide by 2015 whether to rely largely on higher rates, fuel-tax rises and tolls on new roads, or to raise $250 million of the extra annual requirement by charging drivers to use existing roads.
Group chief executive Peter Winder said more work was needed on whether higher fuel taxes or road charges would be easier for low-income householders to bear, and better public transport was needed in the meantime.
He noted high support for road charges among 1260 public submissions, and said the impact on low-income households from a carefully designed scheme of variable fees at peak times capped to a daily maximum might be less than that of hefty fuel-tax rises.
But Mr Lee feared lower-income workers would have limited ability to avoid peak-hour road charges, as they did not generally have leeway to vary their starting times.
"It's going to be hard for them to avoid this unless they take the second-class system - they'll go round the back way - they'll be called rat runners probably."
Hibiscus Coast councillor Wayne Walker called on the city to abandon "this build everything view", prioritise public transport and seek greater government funding.
That followed comments from Mayor Len Brown that even after a strong commitment of funding support from Prime Minister John Key to more than $11 billion of Auckland road and rail projects, the region had to find extra cash.
"It is pretty clear the [$12 billion] funding gap probably isn't the full extent of it," Mr Brown said.
Although Transport Minister Gerry Brownlee opposes tolling existing roads or introducing a regional fuel tax, Mr Brown said he suspected the Government would support the verdict of well-informed Aucklanders.
The councillors resolved to accept the advisory group's final report, and asked staff to provide "next steps" advice to the incoming governing body in November, after October's local elections.