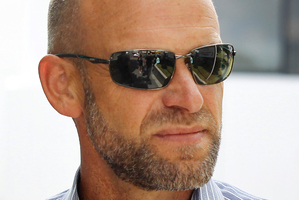 A motorist who drove over a pedestrian on a rural road in Waikato didn't return to check what he had hit because he saw someone else stop and thought he was taking care of things, an inquest has heard.
David Mascelle is giving evidence at the Hamilton District Court this morning at an inquest into the death of Hastings man William Hoskins, who died after he was run over on Marychurch Rd, Matangi on January 15 last year.
The 26-year-old had been at a wedding and is believed to have been heading towards a Cambridge motel where other family members were staying when the accident happened about 4.40am.
Under cross examination from Crown lawyer Philip Crayton, Mr Mascelle told the inquest he was turning on his Ford Falcon ute's air conditioner and took his eyes off the road as he collided with Mr Hoskins.
His wife Ngaire, a Hamilton community magistrate, thought they had hit a crate but he said he had "no idea'' what he had struck.
Mr Mascelle pulled over 88 metres away to check what damage had been caused to his vehicle and pulled off a busted plastic stone guard and fog light.
Asked why he didn't go back to ascertain what he had hit, Mr Mascelle said he saw local man Campbell Primmer arrive at the scene and thought he was "taking care of it''.
"As you've probably seen my wife is a parapalegic, she's confined to a wheelchair and if the car is going to catch fire and she's stuck I'm going to look after her first.''
But Mr Crayton continued: "You still don't know what you hit, that's right isn't it ? For all you knew Mr Primmer may have had an accident also with less fortunate consequences ... and you still don't go back to investigate? Why not?''
Mr Mascelle replied: "At that time I made that judgement based on the information I had before me, right now it was the wrong judgement but it's the one I made.''
Earlier Mr Mascelle said he drove with headlights dipped because there was fog in the area and he was a "careful driver''.
This prompted a family member of Mr Hoskins, sitting in the courtroom, to say "bulls***'', prompting Mr Mascelle to ask the hearing: "Do I have to sit here and put up with this?''
The inquest heard Mr Mascelle was towing a trailer that was six months overdue for a warrant of fitness. The trailer had faulty side-front lights, brakes and wheel bearings.
The inquest, before Coroner Garry Evans, will conclude this afternoon.