Pair keen to purchase flash homes and cars worth $6m take their little daughter with them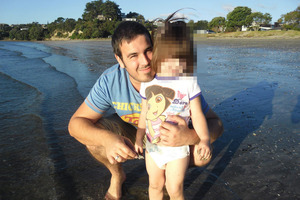 A couple making bids on Auckland homes and booking overseas trips but failing to pay have also signed deals at luxury car yards.
The Herald can identify the couple as Blair Michael Bawden and his fiancee, Toni Morgan Trethewey. They have been named to alert other firms to the activities of the couple.
Last week, it emerged that Mr Bawden had looked at at least four, million-dollar-plus homes in Whangaparaoa, winning the auction for one and placing an offer on another - before disappearing when it came time to pay the deposit.
He also booked - but again failed to pay for - a $100,000 holiday to Disneyland through a Browns Bay travel agent.
Now it can be revealed that Mr Bawden made agreements to buy eight luxury vehicles, worth $802,500 in total, at five Wairau Valley dealerships - despite never taking any of the cars for a drive.
That brings the total of Mr Bawden's "purchases" to nearly $6 million.
The couple went to each dealership with their 4-year-old daughter. On more than one occasion, Mr Bawden gave his address as Pinecrest Drive, Gulf Harbour. The $1.65 million mansion is actually owned by City Impact Church founders Peter and Bev Mortlock.
Mr Bawden and Ms Trethewey, who drove a "beat-up" 1993 Nissan Terrano to the viewings, told dealers they owned a cattle farm and had received an inheritance.
The couple have been kicked out of two rental properties, in Silverdale and Massey, for unpaid rent.
Rob Noakes from Wynn Williams Lawyers said the couple weren't doing anything criminal but under contract law, the car dealers could sue Mr Bawden for the cost of the vehicles he signed agreements to buy because they were legally binding.
Or if the dealers ended up re-selling the cars for less than what Mr Bawden had agreed to pay, they could go after him for the balance.
None of the firms interviewed by the Herald said they planned to pursue Mr Bawden. Tim Walker, dealer at Lexus of North Shore, told the Herald the couple visited the firm about three times, spending five hours in total with his colleague.
They looked at two cars and claimed they were both for Ms Trethewey - one was to be her "fun car" and the other her "practical car".
"Helen, the sales person dealing with them, was even holding the daughter, playing games ... lovely child," Mr Walker said.
Mr Bawden told staff he was negotiating for a Maserati and also wanted a Ford Falcon.
The pair visited North Harbour Ford Mazda about four times, on one occasion bringing in a man and woman Mr Bawden said were Ms Trethewey's parents, as well as other friends.
At Jerry Clayton BMW, Mr Bawden told dealer Matt Bill that a Maserati he looked at was for himself, and a BMW X1 for his friends.
He claimed he had just bought a Lexus for Ms Trethewey.
"And they've got the kiddie, bless it, the little girl, totting around with them," Mr Biill said.
He took Mr Bawden for a test drive.
"The strange thing is, when he came down for the drive, he didn't even want to drive it. He asked for me to drive the car ... and he'd know from there whether he liked it or not."
When contacted by the Herald, Mr Bawden said he hadn't tried to purchase any cars.
"It is very, very bizarre. I've had enough of it. I don't even know where it's coming from ... I'm trying to figure everything out myself ... I don't know where to go from here."

Expensive tastes
Made deals for:
• Lexus IS F $145,000 black.
• Maserati GranTurismo 2012 $140,000 white.
• Lexus RX Limited 450H $135,500 burgundy.
• Ford Falcon GT $90,000 green.
• BMW X1 $52,000 white.
• Cadillac Escalade $140,000 white.
• Holden Colorado (2) $100,000 silver.
Booked:
• Trip to Disneyland $100,000.
Property plans
• Apartment in Manly, Whangaparaoa, bid $1,175,000.
• Clifftop home at Army Bay, Whangaparaoa, CV $920,000, undisclosed offer.
• House in Gulf Harbour, CV $1,650,000, expressed interest.
• Planned Whangaparaoa units, $1,347,000, expressed interest.
Total: $5,994,500.