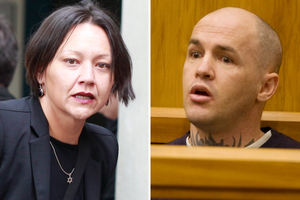 Lawyer Davina Murray is "nit-picking'' in her attack on police search warrants, a court has been told.
Murray, a Maori Party candidate at the 2011 election, has denied smuggling an iPhone, cigarettes and lighter to convicted murderer and rapist Liam Reid.
Her 11th-hour bid to dismiss the evidence police took from her cellphone was heard at Auckland District Court today.
That evidence includes text messages which police say shows Murray planned to secretly marry Reid inside prison.
In one of the messages, Murray asked a friend in Australia to come to New Zealand.
''... Need to smuggle in 2 witnesses into jail as my staff to witness my wedding.''
Murray discussed wedding vows with the friend and acknowledged the secret marriage could jeopardise Reid's appeal.
"My heart says: 'I should just do it' but my head says: 'Wait'.''
A verdict in the case and the result of her application will be given by Judge Russell Collins next month.
Murray could also face a Law Society investigation.
A spokesman from the society said he could not comment on individual lawyers but in general, the Law Society will look into any lawyer facing criminal charges.
Today in court Murray's lawyer Alistair Haskett said the police search warrants did not identify informants and was wide-ranging.
He said the evidence was obtained unlawfully and therefore could not be used in the hearing.
Mr Haskett said police trawled through 12,500 text messages that went back as far as five months before Reid was allegedly caught with the phone inside Mt Eden Prison.
Mr Haskett said there had been no evidence Reid had been texting Murray and her cellphone contained privileged messages between the lawyer and other clients.
"It is important it is seen as it is - a lawyer using a tool we all use to communicate information with our clients.''
But police prosecutor Anna Longdill described the submissions as "nit-picking''.
She said police applied for a broad search warrant to show the relationship between Murray and Reid went further than a lawyer and client.
"It established a developing relationship.''
She said Murray visited Reid 61 times while he was inside Paremoremo during a period of eight months and a further 19 visits to Mt Eden over six weeks.
Ms Longdill said data from the prison showed Reid had called Murray 268 times.
"Mr Reid hadn't called anyone else - a very important piece of information - no one else.''
She sad police had not breached any law and therefore the evidence could be used.
Murray has described herself as an advocate for Reid who is serving a 23-year sentence for raping and killing deaf woman Emma Agnew in Christchurch in 2007, and the rape, attempted murder and robbery of a 21-year-old student in Dunedin nine days later.
- APNZ