Damage could have been worse but chance remains of bigger shake, scientist says.
The faultline causing earthquakes in Cook Strait has a history of producing "swarms" of quakes, but none that have been devastating in the hundreds of years since records began.
The earthquakes that shook Wellington three times on Friday and twice yesterday - the highest at magnitude 6.5 last night - and the following aftershocks resulted from the squeezing of the city in the boundary between the Pacific and Australian tectonic plates.
Director of Earthquake Engineering at Beca, Dr Richard Sharpe said he did not expect yesterday's earthquakes to have much effect on buildings, but predicted it would provoke engineering checks.
"In general New Zealand is very resilient to this type of earthquake. This type of shaking occurring in other countries with very brittle buildings might have caused a lot more mayhem than today," Sharpe said.
Victoria University professor of geophysics Euan Smith said the interface between the overlying Australian and underlying Pacific plates was a significant fault.
"Its potential is that it could have big earthquakes," Smith said.
"We have no historical record and no recent, unequivocal geological record of a big earthquake for many hundreds of years, so we simply don't know how often really big earthquakes may happen on this structure."
Professor Smith said residents should be "sensibly concerned" because a severe earthquake was completely unpredictable.
However, he said the latest seismic activity was similar to a swarm of smaller earthquakes which struck Wellington in January 1950.
Those 30 earthquakes were above magnitude 3 and also occurred in Cook Strait, about 50km northwest of the current epicentre.
"They could go on as the 1950 swarm did for a month. Or they could be all over, though I think that's very unlikely."
Yesterday there were more than five aftershocks, with one measuring 4.9 on the Richter scale before the magnitude 6.5 hit shortly after 5pm.
"We're having a succession of breaks of little patches on the same fault."
Professor Smith said a large earthquake could not be ruled out because earthquakes were unpredictable.
However, he thought the chances of a significant event were less than 10 per cent.
The difference between this weekend's earthquakes, centred east of Seddon and at its lowest 11km deep, and Christchurch's devastating 2011 quake which killed 185 people, was that it was a "direct hit".
"If these earthquakes on Friday and today had been centred right under Wellington there would have been some damage.
"These are distinctly smaller than the February 22 earthquake in Christchurch but if they'd been right under our feet instead of 40km away they would have been much nastier."
Professor Smith said homeowners should properly secure property or possessions which could fall and be damaged or injure someone.
"Earthquakes hurt people when things fall on them."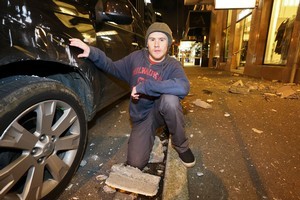 GNS Science duty seismologist Anna Kaiser called the weekend's activity an "earthquake doublet".
She said there had been several earthquakes over magnitude 5 in the past decade alone, including a swarm pattern in 2005.
"If you go back to 1977 there was a magnitude 6 in a very similar location so it's a known area on our radar in terms of earthquakes."
More or bigger quakes could not be ruled out.
- Additional reporting Morgan Tait
Wellingtonians in for nervous nights
Registered psychologist Nerys Parry, who lives in Petone, Wellington said yesterday's big quake would leave residents scared and worried.
"I think people will be feeling cautious. Some will be feeling quite frightened and many will be thinking, 'What if?'
"I think some will face sleepless nights. If there's a heavy truck rumbling by, they'll very likely startle and sit up and think, 'Oh my gosh it's happening again'," Ms Parry said.
"People will be taking what precautions they can prior to going to bed and they'll talk to each other about what to do if there's another earthquake during the night. There will also be a lot of nervous laughter."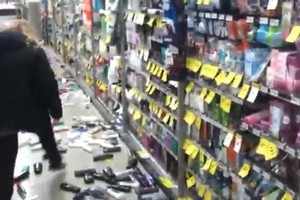 Last night, Cantabrians swarmed social networking sites to send their love, support and advice to quake-affected residents further north.
Many provided practical tips such as having an updated earthquake kit, carrying cash, making sure cellphones were charged and sleeping in clothes with shoes next to the bed.
Ms Parry said Wellingtonians should be preparing themselves and making sure their families would be okay in the event of another quake.
Organising a survival kit, having a large water container, making sure pets would be taken care of and keeping a backpack with a change of clothes next to the bed were all practical things people should be doing.
Notable earthquakes
*Wellington 1855 on the Wairarapa Fault, thought to be the magnitude 8.3
*North Canterbury 1888 Hope Fault, 7.3
*Buller 1929 White Creek Fault, 7.8
*Hawkes Bay 1931 overlying Australian plate, 7.8
*Edgecumbe 1987 Edgecumbe fault, 6.3
*Fiordland 2009 underlying Australian plate, 7.8
*Darfield 2010 Greendale Fault, 7.1
*Christchurch 2011 unknown fault under Banks Peninsula, 6.3
- Vaimoana Tapaleao