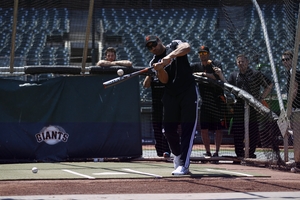 They call San Francisco's AT&T Park the home of the Giants - something that couldn't have been more true yesterday when rugby and baseball's reigning champions shook hands.
All Blacks Victor Vito, Cory Jane, Aaron Smith and Conrad Smith slugged a few balls at the famed park's batting plate before settling in to watch the World Series-winning San Francisco Giants take on the Arizona Diamondbacks as part of an Air New Zealand promotion.
The four got to know more about the great American pastime by chatting with Giants pitchers Ryan Vogelsong and George Kontos - one side got to grips with fastballs and sliders, the other dropped punts and off-loads.
A curious Jane couldn't resist asking the American sporting heavyweights whether they practised the cliche of pulling down their cap and spitting on the ground before delivering a fastball.
All had a turn in the batting cage - natural big-hitter Vito sending a slew of balls high across the park - before the Giants stars had a try with an oval-shaped ball.
Giants senior vice-president Mario Alioto told the Herald on Sunday the passion Kiwis had for rugby echoed that of the United States' love of baseball.
"Baseball is part of the fabric here," he said.