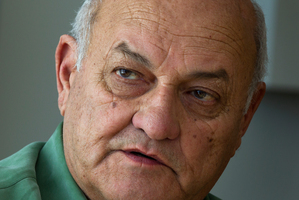 Sir Owen Glenn has confirmed that he is reconsidering his role in his $2 million inquiry into family violence because of "a torrent of nasty publicity" directed at him.
The Glenn Inquiry's chair Bill Wilson, QC said this afternoon that the Sir Owen's focus was on the inquiry and the women and children who were subjected to domestic violence.
In a statement, Mr Wilson said: "Sir Owen Glenn is considering his personal position. Since the first week of June the Inquiry has been considerably deflected in its work by a torrent of nasty publicity directed at Sir Owen personally."
The inquiry has been beset by resignations before and after it was revealed that its founder was charged with physically abusing his personal assistant Marja Shaw (now Stowell) in Hawaii in 2002.
He denies the allegation and was not convicted of any crime.
Mr Wilson said: "He has through his Hawaiian lawyers been able to establish the correctness of what he said. He's got nothing to apologise for and he is deeply disappointed at the deflection of the Inquiry's activities and true focus."
A number of experts have also left the inquiry because of concerns about its safety standards.
An independent review of the inquiry released yesterday found that members had not taken appropriate precautions to protect details about victims of child abuse. Some of their statements had been recorded on members' mobile phones and laptops, though no personal details had been made available to anyone outside of the inquiry.
The report's authors, justice reformer Kim Workman and Women's Refuge head Heather Henare, made 23 recommendations for the inquiry to get it back on track.
Mr Wilson claimed that the review showed that the allegations made against Sir Owen were unfounded and deeply destructive.
"Very substantial costs have been incurred which are therefore no longer available to the Inquiry and in that sense it was a complete waste of money and time. The hurt that has been caused to the Inquiry staff has been appalling. "
Sir Owen's funding for the inquiry remained secure, though it was not known whether the inquiry would keep his name.