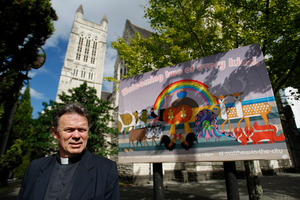 A same-sex Auckland couple who hope to get married in a secular ceremony the day gay marriage becomes legal say they feel sorry for those refused matrimony by the Anglican church.
A spat has broken out in the church's ranks with progressive central Auckland church St Matthew's in the City wanting perform marriage ceremonies for gay couples but church doctrine preventing them to do so.
It was to be the setting for a wedding put on by radio station ZM, which is holding a competition to pay for a gay couple to be married on August 19 - the day legislation allowing same-sex marriage comes into force.
Bridget Casse and Michelle Smales, who have been together for 8-1/2 years, are taking part in a separate competition hosted by radio station the Edge which will pay for two couples to get married that day.
The weddings are to be held in the secular setting of Rotorua Museum, and Ms Casse said she felt sorry for the couples who wanted to be married in a church but could not.
"I feel sad for those couples who are in the running for that competition. I feel like the church has been put in a difficult position where they want to do something but they are being dictated to by powers above them that are preventing them from doing it.
"We do respect that there are people out there who disagree with our sexuality and ... we know that change doesn't happen overnight and real change does need time to sink in. We're fighting a long history of opinions that have been going around for thousands of years."
The couple have a 4-year-old daughter, Phoenix, and Ms Casse said they wanted to get married to show that "we're just another loving, happy family".
"We're a serious couple. We've been together for 8-1/2 years so we certainly haven't done this for the publicity or the prize," she said.
"We see it as a really good chance for LGBTI [Lesbian, gay, bisexual, transgender and intersex] to get some positive publicity out there. Equality is a step towards making it more normalised in society to be gay and to be different.
"Coming out as a young person is a very hard thing and we feel like if they can feel that there's some positive stuff happening in the media then it could just make it a little bit easier."
- APNZ