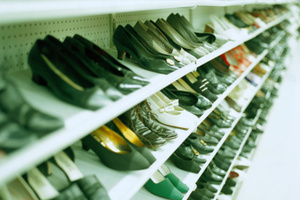 The owner of an Auckland shoe shop has been accused of providing a false letter to the Employment Relations Authority to try to justify the dismissal of a worker.
The letter, purporting to be from a customer, accused the former employee of selling a pair of shoes of different sizes.
However, the authority's suspicions were raised when it discovered the complainant had the same name as the shop owner's estranged wife.
The authority was told that Prasanna Patel worked as a fulltime retail assistant with central Auckland shoe shop Aphrika, which is owned by Kangnai Footwear Limited, from August last year.
After 90 days, Kangnai's sole director, Ling Ke, told her that her trial period had ended and he was unhappy with her performance.
He claimed she had been unable to use the eftpos machine, read magazines and ate while working and that, while he was on a business trip to China, there had been no sales whatsoever for three days.
Mr Ke told the authority he raised these issues with Ms Patel and gave her a warning, but Ms Patel said she was given no such thing.
On November 29 - just days before her dismissal - Mr Ke provided her with a written employment agreement that was to expire the next day.
Mr Ke then told her that her trial period had ended and he was going to reduce her hours to 25 hours per week. There was no discussion about Ms Patel's performance.
Ms Patel was not happy about this and, after a heated discussion, Mr Ke terminated her employment entirely.
Ms Patel laid a complaint with the authority, claiming he had not right to reduce her hours or to dismiss her.
In support of his claim that Ms Patel performed poorly, Mr Ke produced a letter of complaint from a customer which he said was about Ms Patel.
It stated: "I thought I bought a pair of Bianca size 40 though having worn the shoes for approximately 6 weeks I found them to be different sizes; I had one size 40 and one size 39. The smaller size shoe caused me pain as well as my toe to swell which was when I realise the shoes were different sizes."
The original letter was not provided to the authority and there was no reply to the phone number.
It was signed Ellie Ding.
Mr Ke was questioned about similarities with his estranged wife's English name, "Ellie", but he claimed not to know some significant details about her, including her English name.
These details were on his former wife's Facebook page but Mr Ke said he did not have a Facebook account.
The authority also discovered that Mr Ke and his estranged wife had, as recently as February 2013, incorporated a company by the name of Ellie Felix, of which they were joint shareholders.
The authority took the view the letter was not genuine, and that Ms Patel had been unjustifiably dismissed.
It ordered Kangnai to pay her $6000 compensation for humiliation, loss of dignity and injury to feelings and $6656 for lost wages. It was further ordered to pay her 5 per cent interest on the lost wages, and 8 per cent holiday pay.
- APNZ