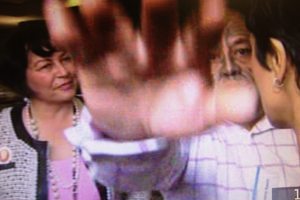 A camera operator from TVNZ's Maori news service Te Karere had his camera pushed away in an exchange at a Maori education hui yesterday, the broadcaster says.
Te Karere staff posted an image on Facebook and Twitter that appeared to show their camera operator having his camera pushed by Maori academic Dr Wayne Ngata.
Dr Ngata was formerly group manager of Te Reo at the Education Ministry and previously worked at Massey University.
Dr Ngata declined to comment and referred calls to event organisers.
The hui was organised by Nga Kaikokiri Matauranga, which represents Maori education providers across New Zealand.
A spokeswoman for the organisation, Renee Ritete, said Dr Ngata was bought in as an independent facilitator and took those duties too far.
"He jumped the gun there and overreacted," she said.
"Nga Kaikokiri Matauranga have always valued the power of media, so we are quite disappointed and apologise to the media for what's happened today."
The meeting was held at the Heritage Hotel in Auckland to discuss lifting Maori educational achievement and attended by Education Minister Hekia Parata.
TVNZ spokeswoman Georgina Hills said Te Karere was invited by iwi leaders, as were Radio New Zealand and Maori Television.
"When (Education Minister Hekia Parata) arrived and saw media waiting there, at that point she asked them to leave and we respected that request, as did the other media."
She said Te Karere reporter Peata Melbourne later asked Ms Parata why the media were asked to leave.
"The minister was answering the question when a man intervened and pushed our camera away at which point the interview was terminated," she said.
"She had started to answer the question when a man intervened. Our team were doing their job, they weren't out of line."
A spokeswoman for Ms Parata said she was invited to address the iwi group on a number of issues and wanted to give them an early briefing on some information not yet in the public domain.
"She asked the media to leave and told them she would speak to them at the end. She spoke with them afterwards as promised."
- APNZ