Figures raise concerns ministry is putting on pressure to accept potentially dangerous students.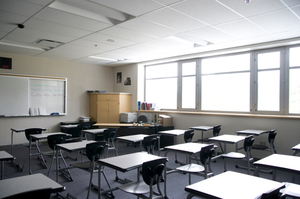 More than 100 schools that kicked out students for bad behaviour, including arson, physical assaults and drug use, have been made to re-enrol the same students again.
From 2003 to 2012 there were 163 incidences where a school was directed by the Ministry of Education to take back a student the school had previously excluded or expelled. In some cases primary school students were asked to leave following harmful or dangerous behaviour, including assaults on staff and classmates.
The figures have raised concerns that schools are being pressured into accepting potentially dangerous students who shouldn't be in mainstream education. Family First NZ, which received the figures from the Ministry of Education, said schools were pressured to ignore dangerous behaviour.
"Schools are having no choice but to accept students who should not be in mainstream education at the moment," said Bob McCoskrie, national director of Family First NZ. "The rights of children and teachers to be safe are being sacrificed in favour of the rights of students who place other children at risk."
However, principals associations have sympathised with the Ministry of Education, saying the measure is a rarely used last resort.
The release of the figures comes after a high-profile backtrack last month by the ministry on the case of Paeroa Central School. It had instructed the school to re-enrol a 10-year-old who had assaulted a teacher and told other students he would "cut them up with a knife".
The child had a history of violence and had attended 14 schools. He has now been enrolled in the Thames Valley Alternative Education Centre, and will receive specialist support.
Principals' Federation president Phil Harding and Secondary Principals Council chair Allan Vester both said that example was at the extreme end of such cases.
The direction to re-enrol was a last resort, which was reflected in the relatively few times it was called on.
"If you divide 163 over 10 years, that's 16 kids a year. If you spread that out over 2500 schools, it's not very common," Mr Harding said.
It could take an exclusion for extra support and funding to be offered, and as such excluding a pupil was sometimes a cry for help from a school, he said. At other times it simply reflected a lack of options, particularly in rural areas.
Separate figures provided to the Herald under the Official Information Act show that in 2012/13 there have been 4761 suspensions, resulting in 1764 exclusions or expulsions.
Katrina Casey, deputy secretary of regional operations for the Ministry of Education, said the number of suspensions and resulting punishment had declined since 2006.
"Many excluded students return to a learning environment without the ministry needing to be involved. Schools and parents or caregivers do work together to help the student get back into school."
Trouble at school
From 2003 to 2012 there were:
* 163 incidents where a school was directed by the Ministry of
Education to take back a student the school had previously excluded or expelled.
* 618 times when a school enrolled a student who had been removed from another school following suspension.
* Action taken after behaviour including violence against staff and students, arson, drug-taking, and continued disobedience.
Ministry of Education data for state and state- integrated schools.