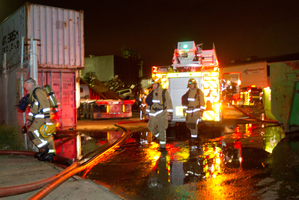 Do you know more? Contact the Herald here.
Firefighters responded to reports of an explosion at the National Steel plant in South Auckland this evening.
Fire Service spokesman Jaron Phillips said 111 calls were made from inside the factory, but there had been no injuries reported.
"We've confirmed there is a fire in the machinery in a building 40x 50m. We don't know exactly what's caused it, triggered this explosion, but the fire is under control.''
Eight fire crews were initially called to the scene but the operation was being "scaled back'' now the blaze was under control.
Mr Phillips said a hazardous material unit and fire safety investigator were also at the scene.
Residents near the fire said the smoke had cleared but there was a strong "metallic'' smell in the air.
The owner of the company, Roshan Nauhria, said he had spoken with one of the operators at the building who told him there was only a little damage to the building.
Mr Nauhria said they sometimes put cars through the shredder and it was possible there was still some petrol in a vehicle's tank, which may have caused the explosion.
"We check every car and sometimes you miss a petrol tank or something,'' he said.
"It was always a possibility that could happen, but we do our best.''
He said they were "very, very careful'' when checking the vehicles.
"When we started we used to have a blast, more or less one every week - now we probably have a blast, one every two months, three months.''
"We take a lot of precautions,'' Mr Nauhria said.
National Steel, which opened in New Zealand in 2008, is a scrap-metal recycling company.
According to its website, the company processes various types of ferrous (contains iron) and non- ferrous metals including aluminium, copper, steel and stainless steel in various forms such as car bodies, whiteware, building materials, cans, and cables.
They also provide on-site scrap metal dismantling and removal services through their network.
The company has installed a "state-of-the-art'' German-made shredder which process car bodies and other ferrous scrap for export.
It converts discarded house-hold metals and industrial metallic waste into recyclable material used in the metal manufacturing industry, the website said.
Sunny Martin said the explosion shook her home in Kerrs Rd.
"It shook my entire house. We get accidents on our corner all the time but this was much worse...We could see smoke coming...It sounds like a factory has blown up.''
The force rattled her windows. "It was like one of those really loud cracks of thunder.''
Mrs Martin, 34, saw flames and soon after heard fire sirens. "It was awful - it really freaked me out.''
She said her neighbours pointed the flames out. "Everyone was coming out of their houses and looking.''