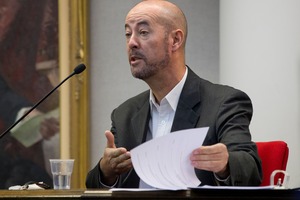 A Defence Force media manager has told a court when he spoke to journalist Jon Stephenson about whether he had met a senior Afghan commander while researching a story about SAS soldiers, something didn't sound right about his account.
Stephenson wrote articles that appeared in the Sunday Star-Times in April 2010 and later, in Metro magazine, which described SAS soldiers transferring Afghan detainees to authorities who tortured them.
The articles were based on an interview Stephenson says he had with the commander of a crisis response unit (CRU) in Afghanistan - a meeting the Defence Force said in a statement did not happen.
Stephenson is suing Defence Force chief Lieutenant General Rhys Jones for defamation at the High Court in Wellington and is seeking $500,000 and costs.
The freelance journalist has reported extensively from Afghanistan and has tried to get the Defence Force to retract the statement from its website but it came down only last week after the start of the jury trial.
The Defence Force media manager at the time, Christopher Wright, told the court today the statement was written to provide balance to media reports that had picked up on the Metro magazine article, which he said had inaccuracies.
He did not know if General Jones was involved in the decision to post the statement.
After the statement was posted on the Defence Force website, Mr Wright met Stephenson and they had a coffee to discuss the statement and articles.
He asked Stephenson if the Afghan authorities knew he was a reporter before meeting up with the commander, to which he said yes.
Stephenson also told Mr Wright he had not been searched when he gained access to the camp.
Mr Wright said if that was the case, why hadn't Stephenson taken a note pad or a recording device into the camp.
He said it was unlikely a journalist would go into such an important and exclusive interview without those tools.
"I just thought it didn't sound right to me.''
He then asked Stephenson to provide him with the name of the commander he had met and Stephenson wrote down a long name.
Mr Wright said he checked the name, but discovered the CRU commander's name was different.
Based on what he believed were inconsistencies in Stephenson's story, Mr Wright said he thought that releasing the statement was the right thing to do.
General Jones is expected to give evidence tomorrow.
The Defence Force last week conceded Stephenson had more than likely entered the camp and probably had an interview with the base commander.
- APNZ