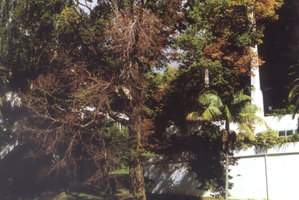 A tree-killing disease previously contained to the Auckland area appears to be spreading south.
Dutch elm disease, which is spread through fungal spores usually carried by the bark beetle, has been found at a property near Drury.
The Auckland council today said more than 200 elm trees were found on the privately owned Kingseat site, located in the southern outskirts of the wider Auckland region.
The disease has recently destroyed trees nearly Appleby and Drury Hills Road.
Further outbreaks were identified in South Auckland. Trees at Bucklands Beach, Lloyd Elsmore Park in Pakuranga and the Manukau Memorial Gardens were all found to be infected.
Simon Cook of the Auckland council said the destruction of so many trees at Kingseat was devastating.
"Kingseat is a historic character site with elms initially planted in the 1930s.
"It's a shame that they will be losing such a significant number of trees."
He also warned the disease could also spread directly through root grafting between neighbouring trees.
"Given the speed at which Dutch elm disease can spread, and the fact that it's nearly always fatal for affected trees, we're taking every precaution to ensure we remove the trees safely and contain the threat within Auckland.
"Elm material that is diseased will often harbour or attract bark beetles- it must be buried, mulched or burnt," he advised.
Aucklanders should check all elm trees on their property, especially those around the Bombay Hills and Pukekohe.
Any suspected cases must be reported to authorities, Mr Cook said.
Firewood being taken away from Auckland should also be checked to ensure it was disease-free.
- APNZ