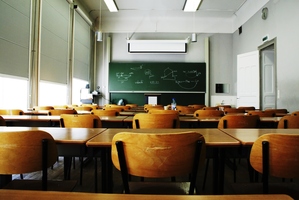 Children at 10 Western Bay primary schools have been stood down or suspended for physical assaults on school staff.
Figures released to the Bay of Plenty Times under the Official Information Act reveal children at Arataki School, Maungatapu School, Merivale School, Otamarakau School, Otumoetai School, Tahatai Coast School, Tauranga Primary School, Te Puna School, Te Puke Primary School and Welcome Bay School were reprimanded for physical assaults on staff in 2012.
Students at five of the region's secondary schools were also suspended or stood down for the same offence.
To protect student privacy, the Ministry of Education would not specify exactly how many students were stood down or suspended at each school, saying only that it was five or less at each. The ministry also did not know what injuries were sustained by staff or if weapons had been involved, as it did not keep this information.
No one from the schools listed responded to messages left with them last week.
Western Bay of Plenty Principals' Association president Robert Hyndman said: "I think quite often some primary school teachers are having to deal with kids who might not know how to handle their emotions ... especially younger children really distressed or upset for some reason."
Clinical psychologist Tanzi Bennison had seen an increase in children displaying aggression, "behaving their feelings rather than verbalising them".
"I'm surprised it's got to the point where primary children are assaulting teaching staff but it fits with the overall picture of where we are headed. It's very sad," she said.
"Quite often children will use aggressive behaviour to try and get their message across. If it works a few times ... it is likely they will do it again. Eventually it will stop working, however, and the only thing they will know how to do is increase the aggression."
Ms Bennison said the "learned behaviour" was a reflection of what children experienced at home.
Year 7 and 8 students at Katikati College, Mount Maunganui Intermediate, Tauranga Intermediate and Te Puke Intermediate were also stood down for physical assaults on staff last year.
Otumoetai College, Papamoa College, Tauranga Boys' College, Tauranga Girls' College and Te Puke High School also stood down or suspended students for physical assaults on staff.
Otumoetai College principal Dave Randell said his school was one of many that also used Section 27, a piece of legislation in the Education Act 1989 enabling principals to exempt a student's attendance following an incident, without it being recorded by the ministry.
"It's a time-out to let people cool down," he said.
The rule allowed greater flexibility to reprimand students for incidents he believed did not warrant a stand down or suspension.
Tauranga Girls' College principal Pauline Cowens agreed with Mr Randell, that any form of assault was treated seriously and principals did their best to ensure safe working environments for staff.
Tauranga Intermediate declined to comment. Principals from the remaining schools did not respond.
Stand downs and suspensions
A stand down is a principal's decision to remove a student from school for up to five days. A suspension is the formal removal of a student until the school's Board of Trustees decides the outcome at a meeting. The board can either lift the suspension or terminate the student's enrolment at the school, which is known as an exclusion or expulsion.
For more articles from this region, go to Bay of Plenty Times