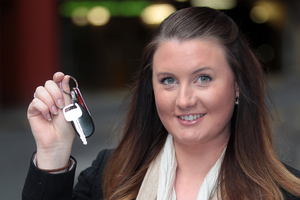 A Facebook page helped a woman find her car just 12 hours after it was stolen.
The fast results from the Stolen Cars Auckland Region Facebook page has impressed her friends but has brought a warning from an internet watchdog.
The page has nearly 5000 members, and details of stolen cars are posted most days.
Nicola Piper, a 24-year-old trade marketing coordinator, parked her car in the Highbury Mall in Birkenhead to go to the gym. She came back75 minutes later to find only the door handle of her 1999 Nissan Silvia lying on the ground.
She said police "didn't really seem interested" so she turned to Facebook, and the Stolen Cars Auckland Region page shared her plea.
Within hours, two members spotted her car 29km away in the Westgate McDonald's carpark. Piper called police and arrived at the carpark around the same time as officers a few hours later.
When told of Piper's success, Netsafe's chief technology officer Sean Lyons warned people might take the law into their own hands once their stolen goods are found.
"Lots of people are frustrated when their car's been stolen and some people want more - they don't just want their car back they want people to pay. Just because we have the information doesn't mean we should be taking the law into our own hands. It's great as a society we're banding together but perhaps we should see it as we're helping out the police, not helping each other."
Waitemata policing development manager Kerry Kay says social media is proving very helpful in helping track down stolen property.
"We (police) also have our own Facebook pages, which have been very successful."
There are similar pages including ones for stolen vehicles in Christchurch and Dunedin as well as ones for the entire of New Zealand and entire of Australia.