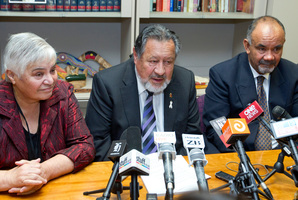 Farewells to some key members of the Maori Party will be made this weekend at the party's annual general meeting.
Party faithful are gathering in Whakatane for a meeting after a tough year, dogged by falling support and a very public leadership battle.
Co-leader Pita Sharples - who has been involved in the party since its conception - is standing down, as is President Pem Bird.
MP Te Ururoa Flavell is unchallenged in his bid to replace Dr Sharples and is keen to pay respect before getting down to business.
"The general time will be to first acknowledge Pem and Pita as they leave, to have the vote for the president and co-leader, and to allow us to have a say as MPs.
"And that will probably be it, and say `Righto, let's get into it'.''
The party knows its facing a number of challenges, but Mr Flavell - expected to be elected co-leader tomorrow - says the party is in good form and ready to pave out a new direction.
The Maori Party's facing the loss of both co-leaders, the president, and the possibility of losing seats at next year's election as support dwindles.
In a session closed to media tonight, members will discuss a number of changes to its constitution, including the way it makes decisions and whether it can be ruled by one leader.
That is a sign the Party's preparing for the possibility of only having one MP after next year's election.