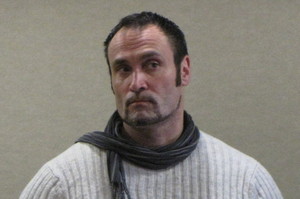 Queenstown bouncer Jonathan Dixon has vehemently denied he caused a Queenstown man to fall and crack his head on the concrete floor of a nightclub in the town last year.
Dixon, 42, who has denied two charges relating to an incident in Subculture bar on January 21, is on trial in the Invercargill District Court before Judge Kevin Phillips and a jury of eight women and four men.
He faces charges of causing grievous bodily harm with reckless disregard for the safety of others, and assaulting Thomas Ian Beatson.
On the first day of the trial on Wednesday, he fired his lawyer and is representing himself.
Seven Crown witnesses were heard on Wednesday and yesterday. Dixon, the only witness for the defence, completed his evidence yesterday.
Several witnesses told the court they heard two loud "cracks" or "thuds" as Queenstown bar manager Jordan Kees Sinke's head hit the floor, and turned around to see Dixon standing near him or over him.
Mr Sinke received a fractured skull, a bruised brain and blood on the brain and has continuing effects from that night.
Dixon said he was "playing with his phone" in Subculture bar about 2.30am when he heard someone making abusive comments.
In 2011, Dixon released CCTV footage on the internet of England rugby player Mike Tindall, who is married to the Queen's granddaughter Zara Phillips, cavorting with an ex-girlfriend in the bar where Dixon was working at the time.
Yesterday, Dixon told the court it was not until he heard the man, whom he found out later was Mr Sinke, say "Tindall" that he realised the abuse was directed at him.
He said he tried to ignore Mr Sinke, but Mr Sinke "threw a punch" which landed on his chest. Another punch missed. Dixon pinned Mr Sinke's arms to his sides and stood on his foot because Mr Sinke tried to knee him in the groin.
"He kept telling me to let him go and I kept saying 'are we cool? Are you cool?' He said he was, but I knew he wasn't. He was ... drunk, really hyped up and breathing heavily."
Dixon said Mr Sinke also told him he was with friends who did not like Dixon either.
Dixon said he let Mr Sinke go and turned to walk to another part of the bar. He then felt something on the back of his foot and turned to see Mr Sinke lying flat on the floor on his back, unconscious.
He tried to help him by checking his airways and his breathing. With the help of a girl, he rolled Mr Sinke into the recovery position.
People were trying to move Mr Sinke, but Dixon said he knew Mr Sinke should not be moved in case of spinal injuries.
When he saw Mr Beatson, a friend of Mr Sinke's, reach for Mr Sinke's hand he thought he was going to try and move him and "shoved him hard" in the face, knocking Mr Beatson backwards.
After that, Dixon said he was "punched and pushed and hit'' by people in the bar. Someone hit him in the head, probably with their knee, and he also had a drink thrown in his face or someone spat in his face.
A staff member told him he should leave, and he did.
Ms Thomas spent some time asking Dixon why he had turned his back on a man who was taunting him and who had already thrown a punch. She suggested a normal person's reaction would be to punch back, or push their aggressor away. Dixon denied he had done that.
He said 20 years "working the doors" as a bouncer had taught him that often it was alcohol which caused people to do "irrational things" and that it was usually better to ignore abuse.
For the Crown, Mary-Jane Thomas suggested Dixon could have put his hands on Mr Sinke's shoulders and walked him out the door of the bar.
Dixon said he did not want to do that because he thought he might be attacked by Mr Sinke's friends.
Ms Thomas: "But after you restrained him and turned away; he fell over and hit his head."
Dixon: "After I restrained him and released him and turned away, he fell over."
Ms Thomas asked Dixon if he was sure he had not pushed or shoved Mr Sinke and caused him to fall.
"I am sure I didn't give him a shove or a punch or a push or a slap or a bite or anything," Dixon replied.
Police investigated Mr Sinke's injuries as a possible assault and appealed for witnesses. To Ms Thomas, Dixon said he had not seen the appeals and did not go to the police with information. He was spoken to by officers six days later.
Ms Thomas asked Dixon if he had thought about going to the police to report being assaulted by people in the bar.
"No, I didn't. Who would do that?" he replied.
The closing arguments and judge's summing up will take place this morning before the jury considers its verdicts.