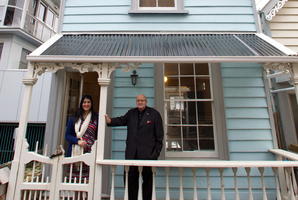 If you're looking to buy in central Auckland but don't want to settle for apartment living, the unusual cottage above might be just what you're after.
The historic property is dwarfed by apartment blocks on either side but it has survived the developers to act as a reminder of how the city used to look.
Remax real estate agent Peter Thomas says visitors and passersby are amazed when they stumble across the two-storey worker's cottage - one of two side by side.
Sitting on Nicholas St, off Hobson St, and nestled between two apartment buildings, the house harks back to Auckland's Victorian past and would perhaps look more at home on the streets of Ponsonby or College Hill.
It was saved from demolition by builder Marx Jones, which bought the properties in 2005 and renovated them.
The cottage is framed by rough sawn wood and the first floor has an open-plan living area, kitchen and bathroom.
French doors open onto the back deck while two double bedrooms upstairs have skylight windows.
The cottages are thought to have been built in the 1870s or 1880s.
City living
• Two double bedrooms.
• Modern kitchen and bathroom.
• 73sq m of land, 60sq m of floor area.
• CV $390,000.