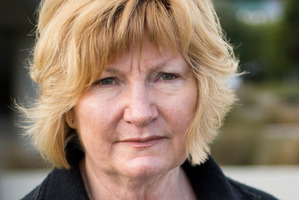 When Jenny Kidd realised her elderly aunt had been ripped off to the tune of $21,000 she was horrified - and then angry.
"I just felt sick. This is the worst thing that's ever happened to her," she said. "She was so lonely and he was so friendly ... I don't know what he said to her to make her trust him, but it worked. She thought he was such a nice looking and well-dressed young man. She just wanted to help him. I think he's a scumbag."
Ms F is not married and does not have children so Mrs Kidd stepped in as she aged to look after her and make sure her affairs were in good order.
Mrs Kidd said her aunt had lost her confidence and her health had deteriorated since McCauley's scam was discovered. She is now living in a rest home because she no longer felt safe in her own home of 50 years.
"She was really happy at home. But after this happened we've had to change her whole life for her."
Ms F was too frail to attend court but in a statement she gave to police that was presented to Judge Roy Wade, she explained how she was taken in by McCauley.
"He just drifted into my life. One day he showed up at my home, he came across as a very nice person.
"He was telling me he was going to work as a builder but didn't have any money for work clothes, steel cap boots, work gear ... I gave him a cheque for the items he needed. The cheque I gave him was a loan. He kept coming back for more money, I can't remember all the reasons he gave me but I gave him more money.
"I really trusted him but I now know that he has ripped me off. I have never met a crook before, and he was the first one. I know my memory is not very good ... but I am 100 per cent certain that the money I gave [McCauley] was a loan and I expected him to pay me back."
Mrs Kidd said she was pleased McCauley was jailed.
"There should be some suffering for him."