Exclusive Conman sent back to jail for relentlessly targeting the frail and ripping them off.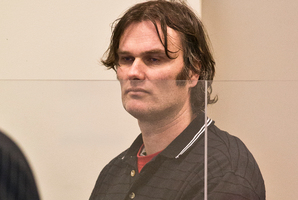 A man who "combed" Auckland looking for frail and vulnerable elderly women to con has been labelled a "menace" and sent to prison - again.
And the judge who sent him there wants everyone to see the man's face, to stop him ripping off anyone else.
Recidivist scammer Dean James McCauley, 42, will spend at least the next two years and four months in prison, after Judge Roy Wade imposed a minimum non-parole period at sentencing in the North Shore District Court yesterday.
"It is abundantly plain to me that you need to be detained," Judge Wade said. "Members of the community, particularly vulnerable elderly ladies, need to be protected from you.
"[McCauley] is a menace to elderly women and the sooner his picture is put out in the media so those who are potentially affected by him in the future are aware, the better."
In March, McCauley was convicted of 23 charges of causing loss by deception relating to an 87-year-old, named in court as Ms F.
He approached her at her North Shore home, introducing himself as James McDonald. He befriended the woman, who has dementia, saying his struggle to get work was causing his family hardship.
Ms F felt sorry for McCauley and gave him cash cheques totalling $600 as a loan. Over the next eight weeks, he returned repeatedly to her house to obtain more cheques. He fleeced her of $21,558.
Eventually her niece took over Ms F's finances due to her deteriorating mental state and realised the money was gone. She went to police.
In April 2012, McCauley targeted 85-year-old Ms G from Avondale.
He offered to clean the exterior of her house for $40, then convinced her he had done so by turning the hose on and blasting her windows with water while she was inside.
Over the next few weeks, he returned and asked for more money in exchange for doing further chores. He charged her a total of $2555 but never did any work.
McCauley pleaded guilty to a representative charge of obtaining by deception relating to Ms G, and unrelated charges of assaulting his wife, breaching his jail-release conditions and failing to appear in court.
It is not the first time McCauley has been before the courts for ripping off elderly women.
In 2009, he was sentenced to community work and ordered to pay reparation in August, and then October for similar offending. In December 2010, he was jailed for seven months.
"It seems to be in his nature; this is how he gets by in life," the police prosecutor told the court yesterday. "He has 12 previous convictions for similar offending against the same type of people - elderly women - in exactly the same way. He wasn't long out of prison for those offences when he carried out the current offending."
As McCauley stood in the dock yawning and mouthing profanities, Judge Wade lambasted him for his "relentless" targeting of frail elderly women. "It is important that the public should know what it was that you did ... You found these women and you ruthlessly exploited them.
"One of the things I worry about is that Ms F lived alone on the North Shore and you found her, despite the fact you were living in Papatoetoe. This suggests you've been combing the Greater Auckland area looking for victims.
"If ever there was a case for a deterrent sentence, it's this one."
Judge Wade "utterly rejected" McCauley was "in any way" remorseful. "Your body language today shows me how unremorseful you are."
He sentenced McCauley to a total of three years and four months' jail.
McCauley's roll of shame
August 2009: Convicted of six charges of obtaining money from elderly women by deception.
October 2009: Convicted of three charges of obtaining money from elderly women by deception.
December 2010: Jailed on three charges of obtaining money from elderly women by deception.
January 2012: Starts offending against North Shore 87-year-old Ms F, conning her out of $21,558.
April 2012: Starts offending against Avondale 85-year-old Ms G, conning her out of more than $2000.
March 2013: Convicted by Judge Roy Wade after a defended hearing in the North Shore District Court.
July 2013: Sentenced to three years and four months in prison.