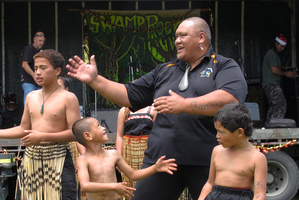 Te reo is an official language of New Zealand - but it's still treated as a poor cousin of English, the Waitangi Tribunal has been told.
Kaumatua Erimana Taniora addressed the Tribunal yesterday about his hapu's loss of land and language as the third week of stage two hearings into Ngapuhi's Treaty claims got underway at the Turner Centre in Kerikeri. This week Whangaroa hapu are having their say.
Mr Taniora, who is of Ngati Uru and Te Whanau Pani descent, conducted a survey in Whangaroa in the early 2000s and was shocked to find only 6 per cent of Maori in the area were fluent in te reo. Because the native speakers were all kuia and kaumatua, that number was decreasing every year.
"The tikanga that this 6 per cent hold may not be around for much longer, which is frightening."
Although te reo was an official language of New Zealand it had been relegated to second-class status. Mr Taniora said he had tried to fill in a cheque last week in Maori, but it wasn't accepted.
"It's the first language of this country, yet it still seems to be the poor cousin of English."
Official attempts to promote te reo, such as Maori Language Week, amounted to tokenism.
Te reo should be promoted more often, for example by using Maori place names in the TV weather forecast one day a week. A greater emphasis on te reo and whakapapa in the school curriculum would have the added advantage of making education more relevant to Whangaroa youth, so they would be less likely to skip class and leave at the earliest opportunity.
About 150 people attended yesterday's session, including runanga leader Sonny Tau and representatives of Tuhoronuku, the committee seeking a mandate to settle Ngapuhi grievances by direct negotiation with the Crown. That is strongly opposed by Te Kotahitanga o nga Hapu Ngapuhi, the group organising the current hearings.
Te Kotahitanga wants to go through the full Waitangi Tribunal process before discussing a settlement.
Week three started on Sunday with a powhiri at Te Ngaere Marae. It is due to continue with evidence from Pai Tahere and Ani Taniwha.
The status of te reo is also proving a hot topic on the Advocate's website, where a story about X Factor judge Stan Walker's undertaking to use English correctly as soon as the rest of New Zealand pronounces Maori properly has sparked vigorous debate and an unprecedented number of comments.
For more articles from this region, go to Northern Advocate