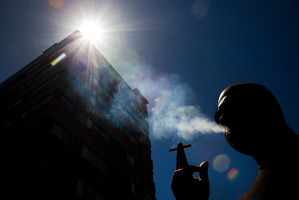 A health board's blanket ban on smoking anywhere on its campuses has been upheld by a judge, against the challenge of two former psychiatric patients and a former nurse.
Justice Raynor Asher, in the High Court at Auckland, has ruled that the Waitemata District Health Board acted within its powers under health law and as a property owner in applying its 2009 smokefree policy.
Providing supervised smoking areas for patients would be expensive and hard to monitor, the judge said in a verdict made public today.
The DHB introduced the policy to protect its staff, patients and the public from the health risks of tobacco smoke in the workplace and to encourage and support patients and staff not to smoke.
Indoor smoking is virtually banned at all workplaces under the Smoke-free Environments Act, although hospitals are permitted to set up smoking rooms. A number of health boards, universities and polytechs have gone further than the act and prohibited smoking outdoors on their properties. Health boards offer nicotine-replacement therapy and other quit-smoking support to hospital patients who are smokers.
One of the name-suppressed former patients, 33-year-old "Mr B", who suffered a traumatic brain injury in a vehicle accident and has a psychotic disorder, has at times been held, under mental health law, in the locked-door intensive care unit at North Shore Hospital's adults' acute psychiatric unit. Because of this detention, he has been unable to go off-site to smoke.
Justice Asher said Mr B smoked on average 15 cigarettes a day.
"He enjoys smoking cigarettes and deposes that they calm and relax him when he is stressed. When he is forced to stop smoking he gets irritable and at times angry, and feels 'as though part of my freedom is taken away from me'."
"Ms C has been diagnosed with bipolar affective disorder and held in the ICU ... She states that smoking helps keep her in balance and calm her down. A lack of cigarettes makes her angry and irritable.
"She states that she suffers intense nicotine withdrawal symptoms. She considers that smoking has a significant beneficial effect on her mental and physical wellbeing."
Justic Asher said the nicotine withdrawal symptoms of both were compounded by their psychiatric illnesses and, in Ms C's case, her use of synthetic cannabis.
The judge said nicotine addiction was not a disability as defined in the Human Rights Act, although he acknowledged the "real and distressing symptoms" that arose in Mr B and Ms C partly because they were nicotine addicts who were prevented from smoking.
"Nicotine addiction is curable and does not disrupt a person's physical or psychological function to a sufficient degree to be accurately described under the Human Rights Act 1993 as a disability."
"Given what is, in my assessment, the relatively low level of disadvantage suffered by the applicants, and the significant advantages of enforcing a no-smoking policy, I conclude that the smoke-free policy is reasonably necessary for the achievement of its purpose.
"It follows that I consider that the smoke-free policy is proportionate to the importance of the objective of stopping [Waitemata] DHB patients, visitors and staff smoking."
- APNZ