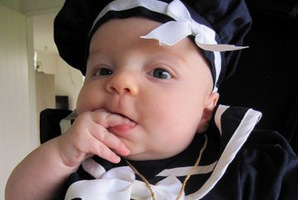 Three missing American sailors have an emotional bond with a Whangarei family that the locals will never forget.
Whangarei marina manager Brian Caulton and his partner Katharina Friedli named their newborn daughter Nina in March, because of "the beautiful boat in the harbour".
That boat, the Nina, is now missing and the Dyche family and four others on it are believed to have perished.
The Dyches even made a flying visit to Whangarei to deliver a bone carving necklace to the mother-in-waiting, shortly before they set sail on their fateful trip from Opua to Australia.
Caulton said he had become close to David, Rosemary and teenage son David Dyche after they spent a year living on board the 84-year-old schooner at the town's central marina.
When Caulton's daughter was born on March 7 she was given the name Nina and has worn the carving of the yacht that shared her name.
Said Caulton:"It will be treasured for life and there will be a story that goes with it."
Sadly the voyaging American family never met the latest addition to the Caulton household.
"We took the photo on the 12th of June to email to Rosemary, so it's a bit of a sad one.
"I was going to do that the following week but with the news [the boat was missing] I didn't do it."
He said despite the searches failing to find the yacht, he held out hope for the safety of all on board.
"We don't know what has happened.
"The way I see it, David is a pretty inventive man," he said.
"I believe if the boat's still floating, whether it's missing a rig or whatever, he'll still be trying to get the boat to land somewhere."
Caulton said the Dyches were a friendly, lovely and generous family.
They had adopted Whangarei as a Kiwi home base and were very community spirited.
When Dyche snr wasn't spending his days on the marina maintaining his vessel, he would captain 61m tugboats in offshore oil fields.