Vicious animals attack guide dogs and pets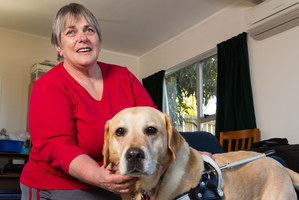 Attacks on guide dogs by out-of-control canines have increased this year, leaving owners and animals injured and distressed.
The charity Guide Dog Services says four dogs have been "significantly" mauled in the past eight months when they were with their handlers.
"We would normally expect a couple of such attacks every year, but this has already doubled in the past few months," said Pauline Dorking, client services manager at the Foundation for the Blind.
"It is distressing for the owners, who don't know what is happening," Dorking said.
"We have also had puppies withdrawn from training schemes because their behaviour changed after being attacked."
New Zealand has 224 guide dogs. Recent violent incidents include:
• On April 5, a pup being taken home from school in Manurewa by walkers was savaged by two dogs.
It took bystanders several minutes to break the dogs' grip. The puppy was treated for puncture wounds and withdrawn from the training programme.
• On March 15, a pup was attacked by a bull terrier that leaped from a vehicle and savaged the guide dog in a shop doorway in Te Atatu. The pup suffered bites to its front legs and is being monitored to see if it is fit to resume training.
• On September 11, a pup was attacked in a park in Papatoetoe. It took two people to prise the animals apart. The guide dog had puncture wounds to her ear and chin and is not responding well to further ongoing training. The dog responsible was impounded then destroyed.
"Sadly, a lot of these cases are not able to be resolved because the handler is not able to describe the dog or the location," Dorking said.
Bob Kerridge, executive director at the SPCA in Auckland, said the increasing numbers of attacks on guide dogs was of concern.
"These attacks are very traumatic for the handlers and guide dogs," he said. "The owners are pretty powerless when their guide dog is attacked and it can be a very frightening experience."
In May, deaf-blind Joan Lake's beloved guide dog Niesha (picture) was mauled in the street by a snarling American bulldog.
The 57-year-old from Templeview, Hamilton, was helped by passing motorists who stopped to help.
"Someone apparently kicked the bulldog in its private parts because it was the only way to get it to let go of Niesha," Lake said.
Lake had to pay more than $1,000 in vet bills for puncture wounds on her labrador and to treat resulting infections. The bulldog was later put down.
"I worry it might happen again and there is nothing I could do about it."