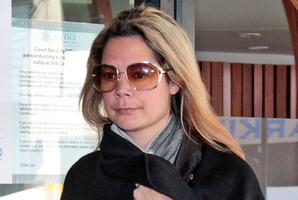 A widow broke down as she told a court that her first holiday without her husband of 40 years was ruined by an internet scam.
Jamie Main could not finish her victim impact statement at the Auckland District Court yesterday and had to take her seat in the public gallery while the Crown Prosecutor finished it for her.
"I will always have the sadness of remembering my first planned holiday away to recover from the grief of losing my life partner of 40 years which was altered due to someone else's callous greed," the woman said.
Anita Lee Cranston was sentenced to 11 months' home detention for "fragmenting the dreams" of Mrs Main and 18 others who had handed over money to rent a luxury Fiji holiday home.
Anniversaries, birthdays and family weddings were among the holidays ruined by Cranston who continued to take $61,000 in deposits for the home despite knowing that it was the subject of two separate court proceedings. Another victim, Leonie Wallace, told the court that her family were looking forward to her brother's wedding in Fiji - a year after her mother was brutally murdered.
"We were looking forward to spending time together, instead it was ruined when we realised the accommodation was a scam."
She said giving evidence at Cranston's trial brought the whole experience back and it was her second victim impact statement in as many years.
Crown Prosecutor Rachael Reed said Cranston had taken advantage of her position of trust.
"Ms Cranston had the audacity to take the victims' dreams and special occasions to simply further her fantasy life that she could not afford."
Judge David Harvey said Cranston was motivated by greed and she spent the money on booze, hotel accommodation and the $1500 weekly rent for her home in Takapuna.
"All of these people had to make alternative bookings to try and secure their holidays and it became a nightmare for them."
He said it was possible to sum up Cranston's offending by turning to the poet W.B. Yeats. He quoted: "Tread softly because you tread on my dreams."
Judge Harvey said Cranston did not tread softly. "You fragmented the dreams of everybody."
He said Cranston's offending was not like normal fraud cases because she was able to hide behind a computer screen and did not have to look her victims in the eye.
Cranston's lawyer, Anita Kemp, said her client was sorry for the offending and had written letters to the victims and the court.
But the judge said: "I've read your letter. I've read the words but I didn't get the feeling, with respect."
- APNZ