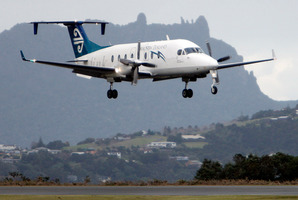 Whangarei MP Phil Heatley is asking Transport Minister Gerry Brownlee what's changed at Whangarei Airport to prompt new flight restrictions resulting in passengers being kicked off planes if it's raining.
A new Civil Aviation Authority (CAA) flight restriction for Whangarei Airport that came into effect on June 1 requires passengers to be kicked off flights in wet weather so planes can land on the runway with less weight.
CAA's instruction says Air New Zealand subsidiary Eagle Air's Beech 1900 aircraft have to approach the airport runway at a height of 50 feet, up from the 35-feet restriction that had been used at the airport for years.
Beech aircraft now have to land further down the runway so when it's wet, or there's no headwind, the planes need a lighter landing weight to make sure they can stop in time.
CAA says the action has been taken as an interim measure while an updated risk assessment is undertaken at Whangarei Airport, and says it's not a safety issue.
But Mr Heatley said nothing had changed with the planes, airport or weather - with the city jokingly referred to as Whanga-rain - and CAA said it was not a safety issue so he wondered why the restriction was in place.
The situation last week saw 10 passengers dumped from one flight from Auckland. They were brought north by van, with many of them upset at not being told by Air New Zealand - which runs the Eagle Air flights into Whangarei - when they booked their tickets that they might have to go by bus if it rained.
"I'd fly more than most, yet I've had only a handful of those soul-destroying times where we've circled Whangarei Airport then had to return to Auckland only to drive up again.
"I have every respect for the Air NZ pilots who make those tough decisions since I inevitably convince myself it's better to be alive and safe than to be home early," Mr Heatley said.
"However, if this latest ruling isn't strictly about safety, that's another matter and I will be formally contacting the Minister of Transport Gerry Brownlee so he can seek advice on what's changed?
"The planes haven't, the airport hasn't and neither has our local weather. As my son Bryn says, 'we're from Whanga-rainy' and its always been that way."
Tourism Development Group chairman and Whangarei District Council member Jeroen Jongejans has called on Air NZ and CAA to sort the matter out to prevent damage to the district's reputation, and before tourists and investors are deterred. Air NZ and CAA are working to resolve the issue.
For more articles from this region, go to Northern Advocate