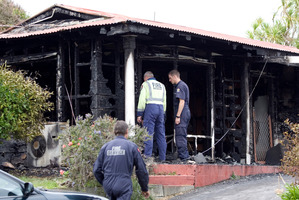 A young mother who died in an overnight house fire had disconnected one of her smoke alarms earlier in the evening because it would not stop beeping, according to a coroner's finding released today.
Roselle Ramirez, from Paraparaumu Beach on the Kapiti Coast, died in April 2011 after her Calendar Terrace home caught fire during the night.
The 25-year-old was asleep with her two children, Jordan and Reyna, when her flatmate Leahmay Osik and her partner noticed the fire, which began in the lounge area of the residence.
The pair, who escaped unscathed with Ms Osik's son, banged on Ms Ramirez's window to warn her before returning to their own room to get the young boy, Coroner Ian Smith's finding said.
Two neighbours, Mark Gosnell and Duncan Chisholm, came to Roselle's aid when it became apparent she and her children had become trapped in their burning room.
The pair were able to pull Jordan, who was seven at the time, from the inferno.
The Fire Service retrieved Ms Ramirez and Reyna, then aged five, from the bedroom floor.
Ms Ramirez died at the scene, however Reyna was able to be resuscitated and has a made a full recovery, Coroner Smith said.
While the cause of the blaze remains undetermined, Coroner Smith said Ms Ramirez's death was another tragic loss of life from a household fire.
"It highlights the importance of ensuring that households have very good smoke alarm systems operating.
"In this instance, we know that the deceased disconnected one of the alarms on the day of the fire because of the noise emitting from it earlier in the day.''
Ms Ramirez died from smoke inhalation, Coroner Smith found.
His report follows a warning from the Fire Service regarding households without working smoke alarms.
Latest figures show 20 people died in avoidable house fires in New Zealand in the past 12 months - with 80 per cent of the properties having no working alarms.
The most common causes of the fires in the 2012/2013 year included cooking after drinking, faulty appliances or electrical wiring and smoking.
Coroner Smith found the most likely cause of the fire which killed Ms Ramirez was an electrical fault.
*************************
Avoidable house fire deaths:
2007/08: 27
2008/09: 16
2009/10: 20
2010/11: 19
2011/12: 12
2013/14: 20
Source: New Zealand Fire Service