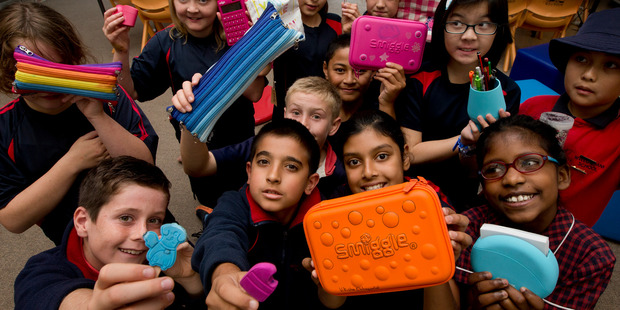 Year 6 children at Willowbank School don't just know their brands - they know which brands go with each sport, age group and gender.
How many brands do you recognise? Take the quiz
Take their favourite stationery brands.
"Typo is more the adult type of thing, Smiggle is like for kids," says one boy.
Or take energy drinks.
"Powerade sponsors the All Blacks so everyone will want to buy Powerade. Gatorade for soccer, Powerade for rugby," says another.
Everybody in the class, mostly aged 10 or 11 in the high-income decile 9 area of Dannemora in East Auckland, can reel off brand names not just for drinks and stationery but for computers, fast food, bikes, shoes, sports gear, supermarkets, department stores and toys.
They have seen advertising on television and on YouTube, in newspapers and letterbox flyers, in shops, at bus stops and on shopping trolleys.
They know who sponsors each sport: McDonald's, ASB and Persil sponsor junior soccer; pizza maker Domino's sponsors the local rugby team; Lotto sponsors boys' hockey; the ANZ Bank sponsors netball; Weet-Bix sponsors the kids' "tryathlon".
They admit to buying some products just because everyone else does. Most of the class has stationery bought from Australian-owned Smiggle stores, which have sprouted in the past few years from Whangarei to Dunedin, billing themselves as "the ultimate creators of fun, fashion-forward stationery".
"The rubbers don't really work," says one boy. But they come in quirky shapes and colours and "smell nice".
The products are expensive - $11 for a pencil case, one boy says, no better than the one "my mum bought at the $2 shop for $2".
But they are so highly prized that some children now leave them at home in case they get stolen.
"I used to have this purple rubber and it was a horse and someone stole it," a girl explains.
Their teacher, Maureen Agnew, sees huge pressures on parents to get their children the things that everybody else has.
"I'm a parent. I was influenced," she admits.
"I wanted my child to have what everybody else had. I didn't want her to be different. It's hard not to conform."
But she tries to inoculate her students against consumer pressures, using the Herald's visit, for example, as an opportunity to expose some of the techniques advertisers use and to discuss how to avoid being sucked in.
Willowbank principal Deidre Alderson says the school tries to counter the pressures by encouraging children to do things that are completely non-commercial, such as outdoor education.
The school allows children to "bring your own device" to school so that they can access the internet, but gets them to work together in groups of two or three.
"Although you can spoil your child with a device, what about giving them lots of opportunities to do other things?" asks Mrs Alderson.
"Are they swimming? Are they playing water hockey? Are they playing soccer? What else are they doing to have a well-balanced life?
"How often are they allowed to just go out and run up and down the street? Are they taking them down to the park? You need that balance."

Live chat: Study author Maggie Hamilton answers your questions from 12pm-1pm on nzherald.co.nz