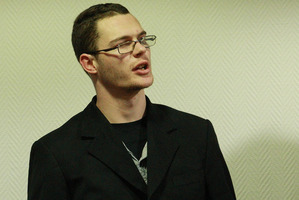 Convicted killer Nikki Roper has today been sentenced to life imprisonment, with a minimum non-parole period of 14-and-a-half years, for murdering ex-girlfriend Alexsis Tovizi in a jealous, revenge-driven rage.
Today, her young son passed a message to Roper in the dock: "I feel really, really sad you killed my mummy.''
Roper killed 21-year-old mother-of-one Alexsis with a sleeper hold at her Christchurch flat in 2010 - just five days after being released from prison where he was serving a sentence for choking her.
As he left jail in 2010, the unemployed 24-year-old he told an inmate: "I'm going to kill the b****.''
Roper, who has 'Alexsis' tattooed under his left eye, had denied strangling the student social worker on the night of December 4, 2010 at her Stanmore Rd flat.
He claimed his on-again, off-again girlfriend died of natural causes related to binge drinking.
But after a seven-day trial, the jury took just four hours to convict him.
When Alexsis' mother Cheryl Tovizi gasped "Thank God'' at the verdict, Roper shouted "F*** up b****'' and then leapt out of the dock and lunged at someone in the public gallery who'd given evidence against him.
He was pounced on by four court security staff and dragged into the cells.
When he was brought back into the room at the High Court in Christchurch, Roper turned to the gallery again and said: "Just remember what happens when you nark on the Mongrel Mob, eh.''
Today, his hands were restrained in the dock and was flanked by two prison officers as members of the Tovizi family read out emotionally-charged victim impact statements.
Cheryl, who had taken out a protection order against him but said they were often in touch, says her life is a "living nightmare'' after the horror of losing her caring daughter, who had a natural instinct to care for "waifs'' and people who had been bullied.
"She was a born rescuer,'' she said, and being highly motivated to help others was training as a social worker.
Since the murder, her life has been turned upside down. She now cares for her young grandson, a "precious, badly hurt little boy'' who was just three at the time of the murder, and had been inside the house when Roper murdered his mum.
When Roper cleaned out Alexsis' bank account after killing her, the boy, now aged 5 who cannot be named for legal reasons, was left "financially destitute'' with just 14 cents.
He is still suffering profoundly from the grief of losing his mother, Cheryl said. He is scared of sleeping, suffers nightmares and is undergoing counselling.
He has a night-time routine that involves him listening to a recording of his mother's voice which tells him she loves him.
She had to tell the boy that when his mum was buried "no, he couldn't go in the box with her''.
She told Roper in the dock that there is "no greater pain than a mother losing her child''.
Cheryl relayed the message from her grandson to Roper: "I feel really, really sad you killed my mummy.''
A psychologist's report about the child said he had been a confident boy before his mother's murder.
Now, he was a "frightened little boy who is terrified of being alone''.
The boy told the psychologist he didn't want to see Roper, saying that he was "good on the outside, bad on the inside. Inside he's a monster''.
Alexsis' father Anthony Baughan says he'll never get closure and feels he never had the opportunity to say goodbye properly.
Alexsis' grandmother Eileen Tovizi said their hearts were broken by Roper's "jealousy and violence''.
Her great-grandchild saw things a child should never see, she said, and told his mother lying dead in her house, "Wake up mummy''.
The pre-sentence report showed Roper had not expressed any remorse whatsoever, Crown prosecutor Pip Currie said today.
In sentencing Roper, Justice Forrest Miller reassured Cheryl that "no mother could have done more'' to keep her daughter safe than she had done.
The most likely explanation for the killing was that Alexsis had told Roper their relationship was over and that she was with another man, Justice Miller said.
He noted that throughout the trial Roper still harboured animosity against the Tovizi family, and he would have to deal with that if he is ever to be released.
The judge noted his "very unfortunate'' upbringing. Being the son of a sex worker and raised in a home where violence was "the norm'' meant he was living on the streets at the age of 8, and in care by the age of 12.
He has 60 convictions as an adult, and is a high risk of violent reoffending especially against women, Justice Miller said.
- APNZ