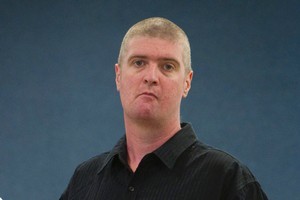 The man who shot an undercover cop three years ago will be sentenced next week for his drug operation.
John Ward Skinner was under investigation by police for his methamphetamine manufacturing when he caught two undercover police officers trying to put a tracking device on his car in 2008.
Skinner and co-accused Lindsay Clegg saw the "intruders" on a security camera and chased the pair more than 100m down the street with a high-powered air rifle.
He shot the pair in the street and one of the officers - Sergeant Don Wilkinson - died.
Skinner was sentenced to life in prison with a minimum non-parole of 15 years for the murder of Mr Wilkinson.
Clegg was convicted of manslaughter.
Standing in the dock today at the Auckland Disitrict Court, Skinner was restless and shook his head as Judge Grant Fraser adjourned his case. He also let out an audible sigh.
Skinner had previously been granted name suppression to protect his fair trial rights but after earlier pleading guilty to the drugs charges, he can now be named.
- APNZ