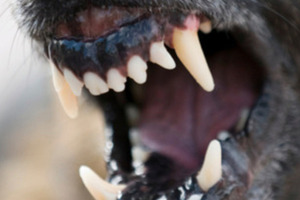 A Far North man needed hospital treatment after being attacked by three dogs.
A complaint has been lodged with the Far North District Council following the attack in Kaitaia on Tuesday morning.
An Allen Bell Drive resident said her adult brother, who is autistic, was attacked by three dogs near Allen Bell Drive bridge, suffering bite wounds to his lower back, legs and feet. He was treated by a GP and sent home. Later in the day, his sister took him to Kaitaia Hospital for further treatment.
"He was still bleeding,'' she said, adding the dogs had been a menace to all in the Allen Bell Drive area for some time. Residents had all but given up walking their dogs on the Parkdale reserve because of the menace they presented. Several elderly folk, including a member of her family, no longer walked at all.
"If my brother had been a child he would have had no show against these dogs,'' she said.
"And they're obviously getting bolder. It's only a matter of time before something really nasty happens.''
Last week, a Dunn St woman said she had lodged a complaint with the council after being chased by up to four dogs on three consecutive days.
On the most recent occasion, she suffered a bite wound and hurt her finger when she fell.
The council had no record of a complaint from her and had not responded to inquiries about Tuesday's complaint at edition time yesterday.
Quite separate from the attacks, the council said yesterday it would be launching a campaign targeting unregistered dogs, with animal control officers going house-to-house, initially in urban areas and then rural.
About 9500 dogs were registered in the Far North each year but the council suspected as many again were not registered.
Field compliance manager Barry Webb said the council followed up on the owners of registered dogs to ensure they renewed their registration each July but now animal control officers would be looking for dogs that had never been registered.
Owners would face a $300 fine for each unregistered dog on their property, and would have to pay the full registration fee if their dog was unregistered after September 1.
Any that were still unregistered at the end of October could be impounded.
Mr Webb said registering dogs made it easier to hold owners responsible if they strayed, or attacked animals or people.
"The prime intention is to improve public safety by reducing incidents of attacks and problems which evolve from unregistered and straying dogs,'' he said.
All dog owners would be reminded of their obligations by letter and warned of the possible outcomes if they fail to comply.