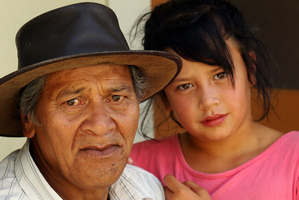 Six years ago last Sunday Annabell Tumanako got into her car, drove off and vanished without a trace.
Tonight on TV2 an episode of Police Ten 7, featuring her disappearance and the ongoing police investigation, will air.
In April camera crews from the Screentime Productions television series were seen at her Bledisloe Rd, Maraenui house and the service station where her car was eventually found.
Detective Constable Stacey Bailey said despite police efforts there had been no progress in locating Ms Tumanako or identifying the reasons behind her disappearance.
"Hopefully the show will encourage someone to come forward with that crucial piece of new information about the case - what we are really looking for now is help to find the body so we can return it to the family."
Police have carried out an extensive investigation into the case, however her whereabouts and the circumstances of her disappearance remain a mystery.
The then 35-year-old mother of five was last seen at her Maraenui home on June 23, 2007. Her car was later located, empty of petrol, at the former Westshore Service Station.
The programme's host, retired Detective Inspector Graham Bell, spoke to Hawke's Bay Today in March and was anxious to wrap up the inquiry, as the sixth anniversary of her disappearance approached.
"The passage of time is not always a bar to getting a result," he said.
Earlier Detective Senior Sergeant Emmett Lynch, of the Hawke's Bay CIB, said the disappearance was completely out of Ms Tumanako's character. Her father, Joe Tumanako, took on care of his five grandchildren when she disappeared and has raised them during a tough six years.
As well as profiling the disappearance on Police Ten 7, police were still working with forensics on DNA profiles taken from the car she had been driving at the time she went missing.
* Police Ten 7: TV2: 7.30pm
For more articles from this region, go to Hawkes Bay Today